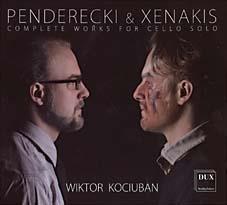 The Strad Issue: January 2014
Description: Contrasting sound worlds from two modern masters
Musicians: Wiktor Kociuban (cello)
Composer: Penderecki, Xenakis
With two major contemporary composers named prominently on its cover, you might expect young Polish cellist Wiktor Kociuban's stimulating CD to hold an hour of predictably thorny, challenging music. In fact, it's very much a disc of two halves – both highly persuasive in their own ways.
The four pieces that (so far) make up Penderecki's complete oeuvre for solo cello inhabit a richly Romantic, expressive world. This is most noticeable in the recent Suite, which Kociuban delivers vividly, but even as far back as the Capriccio per Siegfried Palm from 1968, which tempers its scrubbing dissonances with unexpected passages of ringing tonal harmony, and which Kociuban plays with wit and spontaneity. He has a superb control of timbre and a sure sense of dramatic pacing in the darkly lyrical Per Slava, and his stylish delivery of the 2011 showpiece Violoncello totale seethes with energy.
Kociuban is equally clear-headed when facing the frenetic demands of the two Xenakis works. He gives a confident, muscular performance of Kottos (1977) that never shies away from its noise and aggression, but he's at pains to highlight the music's fragility too. And he rises to the dizzying challenges of Nomos alpha (1966) magnificently in a remarkably complex performance that even seems to involve turning away from and toward the microphone to achieve spatial effects. There's a slight sense that in homing in on Xenakis's more subtle sounds, Kociuban may be missing some of this music's sheer turbulent power. But they're remarkable performances nonetheless, and conveyed in a warm, generous recording.


David Kettle