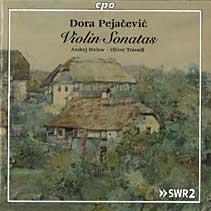 The Strad Issue: January 2014
Description: A valuable rediscovery of early 20th-century music from the Balkans
Musicians: Andrej Bielow (violin) Oliver Triendl (piano)
Composer: Pejačevič
The tragically short-lived Dora Peja?evi? (1885–1923) was born into a highly cultured and wealthy Croatian family who ensured that her exceptional talent for the violin, piano and composing was fostered from an early age. Among her major pieces awaiting rediscovery are a piano concerto, piano quintet and symphony composed in her late twenties and early thirties, but at least her once-popular pieces for violin and piano (including the two sonatas) have been rescued here from oblivion in performances that rejoice in her music's Grieg-inspired sound world.
Ukrainian Andrej Bielow, leader of the Szymanowski Quartet since 2005, possesses a gloriously unforced, flexible and pure sound, ideal for such gentle, salonesque miniatures as the Canzonetta, Minuet (three minutes of unalloyed enchantment) and Romance. It is tempting to cocoon such innocent material in a haze of tonal luxuriance and lashings of vibrato, but Bielow plays each one as a precious jewel, inflecting phrases and harmonic side-steps with an ingenuousness that captures the mood and moment to perfection. Alongside gifted pianist Oliver Triendl (who retains his magical touch throughout the occasionally swirling accompaniments), Bielow captures the wide-eyed innocence of the op.26 Sonata in D major with heartwarming sensitivity in exceptionally well-balanced sound.
JULIAN HAYLOCK