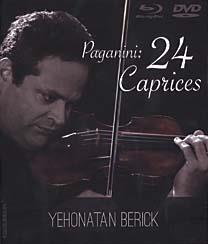 The Strad Issue: January 2014
Description: Knowns and unknowns explored in two new Paganini releases
Musicians: Yehonatan Berick (violin) Stefano Delle Donne (violin) Marco Scicli (viola) Damiano Puliti (cello) Adriano Sebastiani (guitar)
Composer: Paganini
Yehonatan Berick's Paganini Caprices (packaged with both DVD and Blu-Ray discs) offer little in terms of innovation, save for its format. Nonetheless, we find tidy and assured performances in the modern international style from this Dorothy DeLay protégé. Berick's stage presence is grounded and secure, as befits a capable pedagogue, and his playing provides us with, for example, clarity in no.2, technical fleetness in no.6 ('The Trill') and immaculateness in the 24th. Berick, who also gives a twelve-minute interview, comes across as serious and devoted. At times, however, this results in somewhat staid playing, as in a cautious 13th Caprice. That said, this is a quality product that is worth watching – seeing Berick's playing is both instructive and inspirational.
Also released is a disc from Foggia- and Ferrara-trained Stefano Delle Donne. The main selling point is the unusual material from the Sivori archive. It is interesting to note Paganini's clever if artless style of composition in works that are technically simple. The Sonata for violin, viola, cello and guitar is the most interesting piece here, though the Four Studies – doubtless very difficult to play – do not bear very kind comparison with the Caprices.
The actual quality of playing on this disc is a disappointment, and below the standards one would expect of Dynamic. Donne's colleagues are blameless in this respect, for it is his own playing that is faulty – from the outset, his sound is brash and there are some abrupt endings, such as the third sonatina. Intonation is often dubious, and the second of the Four Studies soon degenerates into a bitter struggle that does not see Delle Donne emerge as victor. Sadly, the disc is too flawed to be recommendable.
David Milsom