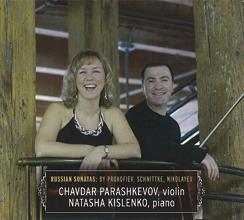 The Strad Issue: January 2012
Description: An enterprising self-published exploration of Russian music
Musicians: Chavdar Parashkevov (violin) Natasha Kislenko (piano)
Composer: Nikolayev, Prokofiev, Schnittke
Bulgarian violinist Chavdar Parashkevov impresses, for the most part, with this disc of Russian music – more so than one might imagine given that it is released on his own label, and recorded sound is appealingly warm. A rarely heard 1903 sonata by Leonid Nikolayev, a pianist and teacher of Shostakovich, is the opener. Parashkevov inhabits every corner of the virtuosic romancing of the first movement, his sparkling, brilliant tone and clarity of gesture creating wonderful moments of light and shade – Natasha Kislenko matches his endeavours with limpid and beautiful pianism. The slow movement is carefully drawn, and both players summon up an electric energy in the final tarantella.
Prokofiev's Sonata no.2 is more familiar ground – here, the tripping phrases of the opening are feather-light and lithe, and in the dashing scherzo, each gesture feels created afresh. In the third movement Andante, however, Pareshkevov appears to lose his way. The momentum sags and tuning becomes a little odd in places. Order is restored for the Allegro con brio, which is every bit as dashing and strident as it should be.
The pieces are presented chronologically, so Schnittke's Suite in the Old Style, from 1973, ends the disc, but it feels a bit of a let-down after the flair of much of the Prokofiev. Schnittke's usual humour doesn't really show through in this short set, and it all sounds a little pedestrian, despite some finely worked performances from both players.


Catherine Nelson