Vijay Gupta is devoting himself to developing his nonprofit Street Symphony, which he founded in 2011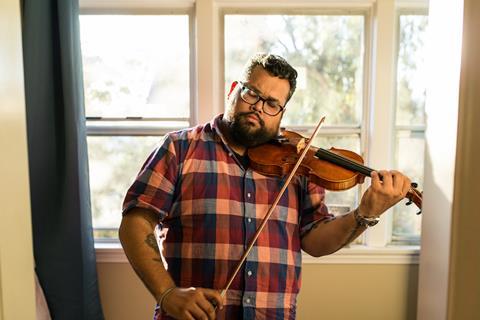 In October this year, the Los Angeles Philharmonic violinist Vijay Gupta won a MacArthur Fellowship for his social justice work, an award that came with a $625,000 no-strings-attached stipend.
Now he has announced his decision to give up his position as one of the orchestra's first violins to focus on his activism, to teach and to develop his nonprofit Street Symphony, which he founded in 2011 to perform free concerts for Los Angeles' homeless and in county jails.
Gupta was a child prodigy who made his solo debut at age 11 with the Israel Philharmonic Orchestra under Zubin Mehta. He joined the Los Angeles Philharmonic at the age of 20 in 2007 and afterwards, began to give lessons to Nathaniel Ayers, a Juilliard-trained musician whose mental illness led to homelessness.
This inspired him to play for the homeless and mentally ill living on Skid Row, an area of concentrated poverty and homelessness in downtown Los Angeles, which, in turn, led to him cofounding the not-for-profit Street Symphony.
Along with nearly eighty musicians he has recruited from the LA Philharmonic and elsewhere, Gupta and Street Symphony present monthly programmes of live musical performances at shelters, county jails, and treatment and transitional housing facilities.
In addition, Street Symphony provides musical education through workshops and its recently launched Fellows Programme, which pairs emerging artists from local universities with talented individuals from Skid Row for a year of musical instruction.
'I feel like the L.A. Phil saved my life when I was a 19-year-old kid. It was the way that I was able to continue being a musician and to continue growing as an artist,' Gupta told the Press Herald 'And I'm really excited to take that artistry beyond Los Angeles and beyond the work of being in an orchestra.'
The Street Symphony is now moving from Gupta's living room into its first office, a downtown space it will share with the homeless advocacy and performance group Los Angeles Poverty Department. Gupta, 31, is also planning to expand the project's fellows programme, which enables skid row musicians to study for up to a year with professional musicians.
The ambition, says the violinist, is 'to shore up the infrastructure of the organization so that Street Symphony can grow and flourish beyond Vijay Gupta.'