Pine, who suffered injuries to her lower limbs in 1995, was advised by her medical team that she will be non-ambulatory over the next few years.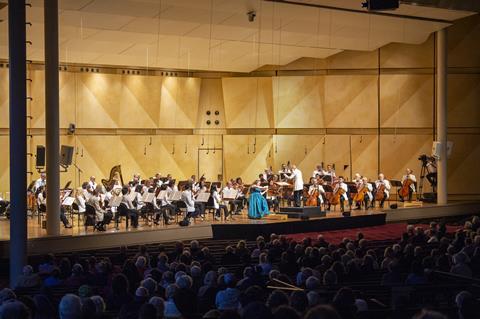 Violinist Rachel Barton Pine has been advised by her medical team to perform seated for the foreseeable future. Pine suffered injuries to her lower limbs at the age of 20, following an incident with a suburban Chicago commuter train in 1995, however, Pine's ability to play was not affected.
Pine stated, 'These are medical setbacks; my ability to fulfil my life's purpose as an artist remains unaffected. I'm sharing this information so the focus will stay on my music-making,'
To date, Pine has undergone more than 50 surgeries. Following an intense regimen of physical therapy, she had been performing standing for all of her solo appearances prior to December 2018, when she was unexpectedly hospitalised with a joint infection while on tour in France. Nonetheless, Pine has currently maintained a busy schedule this year, beginning the season with an appearance at the Ravinia Festival in July, substituting for Midori as soloist in Prokofiev's Violin Concerto No. 1, with a notice period of only three and a half hours. This season she will continue touring extensively throughout North America, including engagements with the Pacific Symphony and the Anchorage Symphony Orchestra.
Following the incident in 1995, Pine sued the train company for compensation for her injuries and legal and medical expenses. Additionally, the conductor Daniel Barenboim raised over $75,000 in a benefit concert for her. After a two-year hiatus to allow for recovery from her injuries, aided by numerous surgeries and physical therapy, Pine resumed her career.
Watch: Concertos from the Inside: Rachel Barton Pine plays music by the Chevalier de Saint-Georges
Watch: Rachel Barton Pine and her daughter share two pieces from 'Music by Black Composers'
Read: Rachel Barton Pine: 10 tips for practice and performance