Her debut album on the label will be released in early summer 2019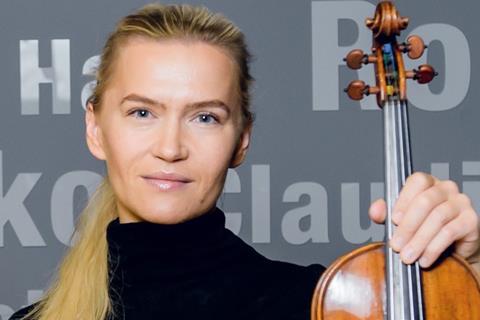 The Norwegian violinist Mari Samuelsen has signed an exclusive agreement with Deutsche Grammophon. Her first single, Max Richter's 'November', was released on Friday to coincide with the ARTE broadcast of her performance at Beijing's Forbidden City in October, as part of the DG 120 celebrations.
Samuelsen's debut DG album, which will be released in early summer 2019, was recorded with the Konzerthausorchester Berlin and conductor Jonathan Stockhammer. Tracks range from Bach's Chaconne in D minor to orchestral pieces by leading contemporary composers, including Max Richter, Brian Eno, Jóhann Jóhannsson and Peter Gregson.
Max Richter's music has become a core part of Mari's personal playlists as well as her live repertoire. Immediately taken with his 2012 DG release Recomposed, she has since played the Vivaldi-inspired score with Richter in concert, most recently in December 2018 in Hong Kong.
They have also performed Memoryhouse and worked together on his latest album for DG, Three Worlds – Music from Woolf Works. 'Apart from being a wonderful violinist,' says Richter, 'Mari has an instinctive understanding of my compositional world and an uncanny ability to communicate my intentions.'
In addition to Richter, Samuelsen has also collaborated with the electronic artists Jeff Mills and Dubfire, and created projects with Berlin multimedia artist Philipp Geist. In the first half of 2019, she will be performing works by Richter and music by Arvo Pärt and Pēteris Vasks on tour with the Baltic Sea Philharmonic and Kristjan Järvi, with concerts at the Berlin Philharmonie and Hamburg Elbphilharmonie in June and July.
On Samuelsen's new contract, Christian Badzura, Director of New Repertoire at DG says, 'I heard Mari's interpretation of the Bach Chaconne a few years ago and was blown away by her clarity of articulation and the wonderful sound colours she produces.'
She continues, 'We could have made a complete album of Bach's timeless music, but were keen to reflect the great breadth of her artistic vision. Her debut album combines familiar repertoire with freshly composed pieces to create an irresistible musical mix.'