Guy Johnston found himself presented with a compulsory extremely expensive option when booking to travel with his cello on a regional US flight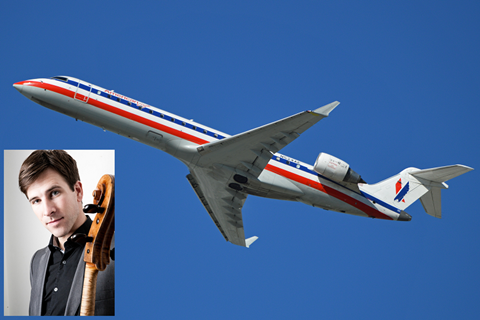 Proving that travel with a cello is an unpredictable business, however experienced you are, the BBC Young Musician winning cellist Guy Johnston found himself shelling out for a two first-class tickets in order to fly from Chicago to Rochester, NY this week.
'I've travelled all round the world for the last 20 years or so and this is a first,' and exasperated Johnston said.
Johnston was flying from London to Rochester, NY, where he is Associate Professor of Cello at Eastman School of Music. The flights were booked online with British Airways, economy class via Chicago. However, when it came to adding the cello seat, which one has to do by phone, it transpired that because the Chicago-Rochester flight was an American Airlines flight (a codeshare with BA), BA itself could not book a seat for the cello for that leg.
'I was advised by BA to call American Airlines to book the cello, which I did, but was told that they could not book a seat for the cello in this case because the booking was a BA booking,' Johnston's manager said.
'On advice from BA, I cancelled the through-booking and re-booked London-Chicago on BA and Chicago-Rochester on AA.'
This was already sub-optimal, Johnston's manager pointed out, because with separate tickets any delay on the first flight of each leg could result in a missed second flight for which the first airline would not be responsible.
Finally, in booking the cello seat with AA, they were informed that it could only be booked on these particular flights in first class, due to dimensions/design of the seats/planes, with the cost of the cello seat only marginally less than the full-price passenger seat.
The cello seat alone cost more for the Chicago-Rochester return than Johnston's ticket for London-Chicago return.
'Both BA and AA were at all points polite and helpful, but the system is certainly not helpful,' Johnston's manager told The Strad.
A spokesperson for American Airlines said:
'This is not an airline policy, but due to federal regulations on two specific aircraft in our fleet – our Boeing 757 and Bombardier CRJ-700 aircraft. These two specific aircraft do not have a seat that will permit a cello as an extra seat, beyond the first class cabin.
'On all other aircraft in our fleet, a cello will be assigned a bulkhead, window seat on a non-exit row, and then the cello will be properly strapped by use of the seatbelt with the customer seated next to it.
'Since all of our flights between Chicago and Rochester are on the Bombardier CRJ-700, that was the reason he would have been required to purchase seats in the first class cabin.'