Finnish violinist Pekka Kuusisto graces the cover to share stories about his latest musical adventures - including making the move from bow to baton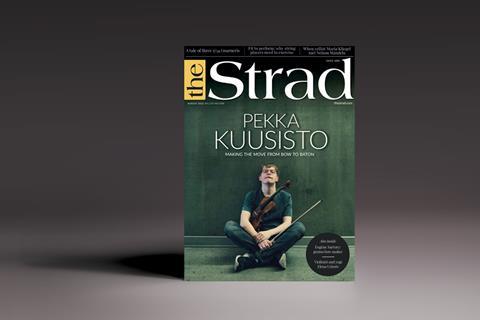 Pekka Kuusisto: The adventurous Finnish violinist talks to Andrew Mellor about his predilection for finding new challenges – including a recent shift to the conductor's podium
Three 1734 Guarneris: Giacomo Fiocco reports on a recent study of a trio of 'del Gesù' instruments, examining everything from the varnish composition to the f-hole design
Musicians and exercise: Taking inspiration from sports science, Berenice Beverley Zammit reports on how string players can physically prepare themselves to perform more efficiently
Session Report: Violist Hélène Clément tells Carlos María Solare about her latest recording of works by two accomplished viola players: Frank Bridge and Benjamin Britten
Sartory bows: Richard Morency identifies some of Eugène Sartory's working methods through a detailed examination of one of his middle-period bows
Elena Urioste: The multifaceted soloist has myriad strings to her violin bow. She talks with Toby Deller about everything from yoga to starting up her own festival
In our regular sections:
In Focus: Philip Brown examines a rare cello by Carlo Ferdinando Landolfi from 1766
Trade Secrets: Luthier Sarah Peck presents her method for making Baroque bridges
My Space: Saarbrücken maker Martin Krause
Making Matters: How did six bow makers create a single bow in just three days in Paris?
Masterclass: Johanna Staemmler of the Armida Quartet on Mozart's Quartet no.16
Technique: Iagoba Fanlo on practice routine
Life Lessons: With violinist Helena Rathbone
Opinion: The importance of opening up the concert experience for young people
Postcard from Belgium: A report from the cello finals of the Queen Elisabeth International Music Competition
From the Archive: From August 1912
Sentimental Work: Maria Kliegel on Wilhelm Kaiser-Lindemann's Hommage à Nelson M.
We also bring you news of the latest products and auctions, plus our regular analysis and opinion columns, and comprehensive reviews of concerts, recordings and books. Simply go to the latest magazine to explore the full content listing.
Plus, in your August digital edition:
View extra photos of the Stradivari violin played by Pekka Kuusisto, the c.1709 'Scotta'
Read about Hélène Clément, Alasdair Beatson and Sarah Connolly's new recording of Britten and Bridge, along with extra photos and audio clips of the session
Extra photos of this month's My Space workshop, with Saarbrücken luthier Martin Krause
More images from violinist Elena Urioste's most recent photoshoot
Track the journey of intrepid cellist Kenneth Wilson as he continues his 2000-mile cello odyssey from Carlisle to Rome
And as regular as the passage of time, clips from the three recordings this month rendered with that hallowed honorarium 'The Strad Recommends'
The digital magazine and print edition are on sale now, or subscribe to access the entire magazine online here.