Bruce Hodges watches the show at Philadelphia's Benjamin Franklin Hall, courtesy of the American Philosophical Society, on 4 May 2022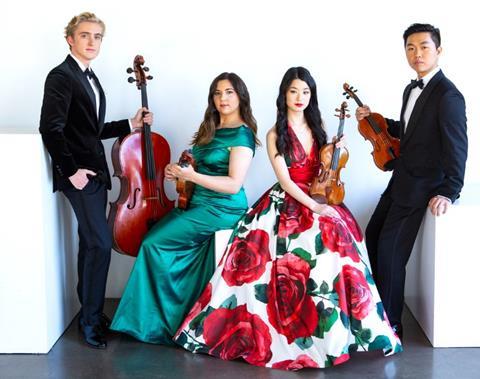 In a former life Roberto Díaz was principal violist of the Philadelphia Orchestra. Now he serves as president and CEO of the esteemed Curtis Institute but, as he demonstrated here, he still finds time to show his instrument some love. Here he joined the Viano Quartet – currently in residence at Curtis – for some Brahmsian warmth to close the evening.
The quartet began with Caroline Shaw's The Evergreen (2020), inspired by a trip to Galiano Island in British Columbia. The first section, 'Moss', dwells mostly in the instruments' higher registers, with a sparkling spiccato sequence near the end. 'Stem' sprouts from much lower, with repeated juicy, consonant chords leading to an ecstatic climax. Small dripping pizzicatos create 'Water', its engaging quietude giving way to the forceful final part, 'Roots', filled with arpeggios that create a timeless feeling.
Prokofiev's Second String Quartet (1941) was summed up as 'merciless' by the group's violist Aiden Kane. The Viano brought out the force and tenderness of the opening Allegro, and displayed subtle textural shading and dynamics in the slow movement. The spirited Allegro was given with engaging colour and punctuation.
In the monumental journey of the initial two movements of the Brahms Quintet op.111, Díaz matched his colleagues' passion and accuracy, making the third feel a bit like a salve. The finale was so thrilling, I wish they had repeated it as an encore.
BRUCE HODGES