Silkroad artists Rhiannon Giddens and violinist Mazz Swift will visit the historically Black liberal arts college to lead conversations, workshops, and performances with Spelman faculty and students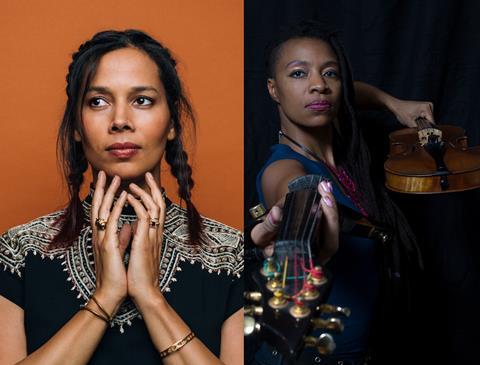 This spring, Silkroad will undertake its first educational residency at Spelman College, a historically Black liberal arts college located in Atlanta, Georgia. The three-part residency includes artist intensives and creative workshops led by artistic director Rhiannon Giddens on 15 and 16 March, and a celebration event and performance featuring Silkroad artist Mazz Swift on 11 April.

'All of us at Silkroad are thrilled to be forging this new partnership with Spelman College and to contribute to students' educational journey through exploration and exposure to diverse musics and cultures. This experience will be just as enriching for us as we hope it will be for them,' said Giddens.
Giddens will lead a series of artist intensives designed for students majoring in music. These will focus on improvisation, composition, coaching, and storytelling, drawing from her background as an artist-activist and historian. Giddens will also engage the Spelman community through creative workshops on music-making and storytelling, which will be open to the general Spelman community.

Violinist, vocalist and composer Mazz Swift, who is a member of the Silkroad Ensemble, will visit the College in mid-April to participate in a performance honouring Spelman President Mary Schmidt Campbell, who is retiring at the end of this academic year. Swift will collaborate with Spelman faculty and students as part of this campus-wide celebration.

Through this inaugural residency, Silkroad artists aim to guide Spelman students in expanding their creativity, developing an artistic process, and using the arts as a vehicle for storytelling. They also hope to inspire students and community members to engage with traditions from other cultures, build the courage to express themselves, and bring passion to their work. A second residency, featuring a larger group of Silkroad artists, is slated for autumn 2022.

Silkroad was initiated by cellist Yo-Yo Ma in 1998, recognising the historical Silk Road as a model for cultural collaboration, for the exchange of ideas, tradition, and innovation across borders. He brought together musicians from the lands of the Silk Road to co-create a musical language founded in difference, thus creating the foundation of Silkroad: both a touring ensemble comprised of world-class musicians from all over the globe and a social impact organisation working to make a positive impact across borders through the arts.