The cellist's debut album, released in January, enjoys boost thanks to internationally televised appearance watched by millions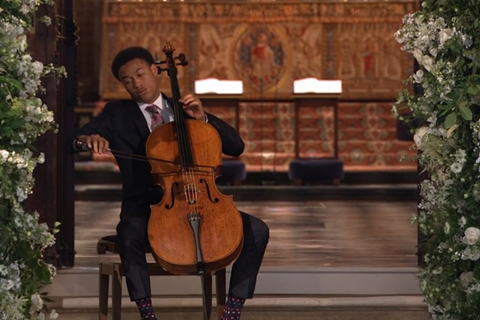 Sheku Kanneh-Mason's debut album 'Inspiration' has reached the no.1 spot on the US Billboard classical chart, as well as no.60 in the overall Billboard 200 chart. It is also no.1 on the UK classical album chart and no.11 on the overall UK album chart.
The album was released at the end of January and entered the UK classical chart at no.1, but has enjoyed an international boost thanks to Kanneh-Mason's performance during the signing of the register at the internationally televised wedding between Meghan Markle and Prince Harry.
'It's a day I will remember for the rest of my life,' the cellist wrote on social media.
Kanneh-Mason is also at the top of Billboard's 'Next Big Sound' chart, which identifies 'the fastest accelerating artists during the past week, across all major social music sites, statistically predicted to achieve future success'.
The 19-year-old cellist, who became BBC Young Musician of the Year in 2016, is currently sudying at the Royal Academy of Music in London.
The album features Shostakovich's Cello Concerto no.1 as a centrepiece, but also includes a selection of shorter works and arrangements. One of these is Kanneh-Mason's own reworking of Bob Marley's 'No Woman, No Cry'.