24-year-old US-violist Natalie Loughran took home the top prize of $15,000 as well as the BIPOC and audience prizes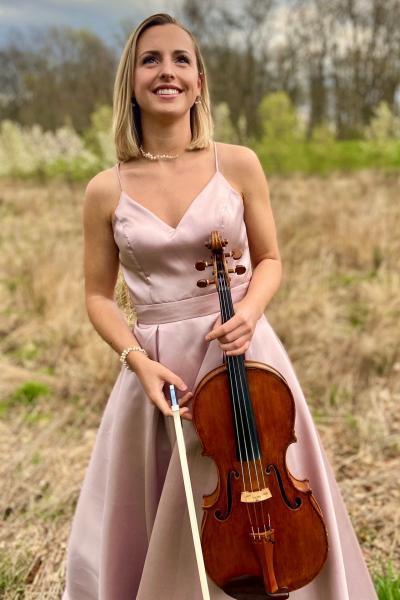 The final round of the Primrose International Viola Competition was held on Saturday 18 December at Colburn School, Los Angeles. Juilliard graduate student Natalie Loughran won first prize of $15,000, as well as the $1000 BIPOC prize and the audience prize. For her winning performance, she played the Walton Viola Concerto, accompanied by the Colburn Orchestra, conducted by Molly Turner. She will also enjoy the opportunity to perform at the 2022 American Viola Society Festival & 47th International Viola Congress in June 2022, as well as an invitation to participate in the semi-finals of the Concert Artists Guild Victor Elmaleh International Competition in May 2022.
Second prize of $10,000 went to Samuel Rosenthal (21, US), while third prize of $5000 went to Nicholas Swensen (Denmark/US). The transcriptions prize of $1000 went to Keoni Bolding (24, US).
Loughan studies with Roger Tapping and Misha Amory at The Juilliard School, where she is a recipient of a Kovner Fellowship. She appeared as a finalist for the 2020 Young Concert Artist Auditions and semi-finalist at the Tertis International Viola Competition, where she was awarded a special prize for her performance of the Bowen Viola Sonata in C Minor. She has performed with the Verbier Festival Chamber Orchestra, under Gábor Takács-Nagy, toured internationally with the Budapest Festival Orchestra, directed by Ivan Fischer, and will be a member of the Metropolitan Opera Orchestra for the 2021-22 season.
The jury was chaired by Barry Shiffman and included Andrés Cárdenes, Victoria Chiang, Daniel Heifetz, Mai Motobuchi, Dimitri Murrath, and Chauncey Patterson.
The Primrose International Viola Competition was founded in 1979 by the American Viola Society as the first international competition solely for violists. Hae-Sue Lee won the previous edition in 2018 and winners from preceding years include Jennifer Stumm, Antoine Tamestit and Lawrence Power.