Tomplay's interactive sheet music app includes a wealth of music for violin, viola, cello and more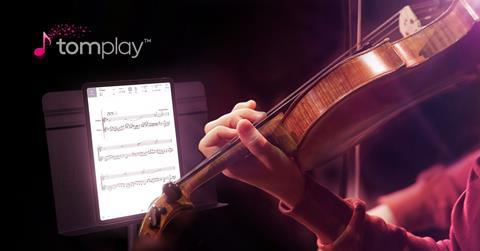 Have you ever dreamt of playing along with an orchestra? Well, your dreams have come true thanks to Tomplay! Tomplay is a library of interactive sheet music which has made the playing experience much more immersive via its app. There are a wealth of features available, such as being able to choose your tempo, record yourself, annotate the sheet music and an automatic scroll feature. However, the best and most unique aspect of this app is the fact that you can play your instrument part accompanied by high-quality recordings of orchestras, ensembles and more.
For string players, being able to play along with an orchestra in their own home is a major benefit for practice and for motivation. There are hundreds of pieces on offer at Tomplay with high-quality recordings of orchestral accompaniments. One such example is Vivaldi's Four Seasons - Spring sheet music. When you open up the score, you have access to the many wonderful features of the app. Let the music scroll automatically as you practise solo, before playing along with the orchestral accompaniment, which has been recorded by professional musicians. This piece, along with many others, is also available in the Tomplay Violin sheet music catalogue and Tomplay Cello sheet music catalogue.
There is also a wide range of pieces for trios and quartets in a variety of genres. For instance, the Five pieces for two Violins and Piano - I. Prelude by Shostakovich. This beautiful piece was written to entertain, a departure from the composer's usual, dramatic style. With Tomplay's multi-track feature, you can remove one of the violin audio tracks from the piece and play along with the rest of the ensemble. It's a great way to practise when you're alone.
Many duets are included in the app, such as the violin sheet music for Thais - Méditation by Jules Massenet for violin and piano. You can practise playing solo first, to iron out any tricky passages using the loop feature, before adding in the piano accompaniment. For viola players, you can explore the viola sheet music catalogue where you will also find duets, along with trios, quartets and orchestral pieces.
For many musicians, practising can only go so far when you don't have the orchestra or ensemble to play with. Tomplay has now made it possible to go that one step further, all via a single app. Not only is it more motivating to practise accompanied, it also helps to develop your performance and technique. Furthermore, the various features available make it much easier to practise and to see your progress in the long term.