Trumpeter proposes to girlfriend violinist during a Philadelphia Orchestra live concert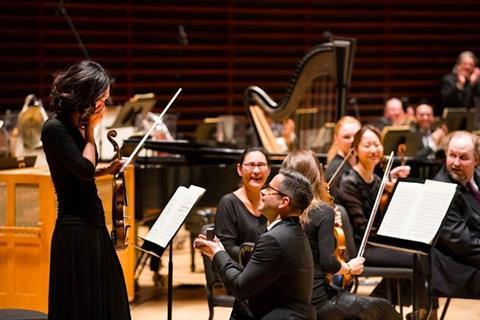 A trumpeter in the Philadelphia Orchestra provided an unexpected pre-concert twist last Friday evening, when he proposed to his violinist girlfriend, Julia Li, on-stage.
The orchestra was about to play a special Valentine's Day concert, 'Sorcerers, Spells, and Magic', at the Kimmel Center for the Performing Arts, Philadelphia, when Tony Prisk, the orchestra's 2nd trumpeter, made an announcement:
'Hello there! I'm Tony Prisk and I play trumpet with your Philadelphia Orchestra. I have a few brief instructions to go over before we begin.
'For your safety, please remain seated at the conclusion of the performance until the auditorium lights are fully illuminated.'
He continued: 'During the concert, please turn off your devices – but right now, you might want to take them out and start recording, because this isn't something you see every day. Julia Li, in the first violins, will you please stand? I have an important question for you and I would like everyone to hear it.'
Crossing the stage towards her, Prisk lowered himself onto one knee.
Li, 30, later told The Philadelphia Inquirer: 'I had a sneaking suspicion it was going to happen. But I still cried.'
The pair first met six years ago after joining the orchestra. Li, a graduate at the Curtis Institute of Music, has lived in Philadelphia for several years, while Prisk moved to the city from Houston.
On his dramatic proposal, Prisk, 45, commented: 'It just felt right. She's beautiful, talented, and smart, and we laugh a lot together, our sense of humour lines up really well.' As for the wedding plans, he says: 'It's all up to her now. I did my part!'