The violinist claims Classic FM denied him the opportunity to perform a Jimi Hendrix tribute, seen as 'not suitable' for the radio station's audience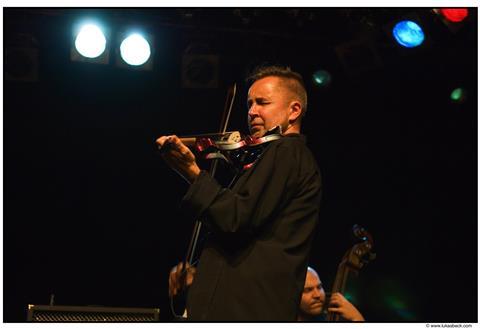 Nigel Kennedy has pulled out the Classic FM Live concert at only a few days' notice, citing musical segregation and prejudice against his programme choices.
The violinist was due to appear at the Royal Albert Hall concert on Wednesday 22 September, where he planned to perform a musical tribute to legendary rock guitarist, Jimi Hendrix, with his arrangement of 'Little Wing' in a celtic style of Ralph Vaughan Williams, with the Chineke! Orchestra. However, he told The Guardian that the concert organisers did not want him to perform Hendrix, instead asking him to play Vivaldi's The Four Seasons, a choice the radio station believed was more 'suitable' for the concert audience.
Kennedy was also asked to rehearse The Four Seasons with less rehearsal time than he wanted, as well as perform with a conductor, which he does not ordinarily do. 'The communication between myself and the orchestra is much better than having someone doing semaphore in between them and myself,' he said. Of the Berlin Philharmonic Orchestra, with whom he has performed the work many times without a conductor, he says, 'They take a joy in rehearsing in order to get deeper into the music.'
Upon hearing Classic FM's request, Kennedy felt he had no choice but to withdraw from the concert, claiming the decision was about 'musical segregation'. He also called the radio staion 'Jurassic FM' in response to its traditional programming. 'If [the decision] was applied to people, it would be illegal. If that type of mentality is rampant in the arts, then we still haven't fixed the problem of prejudice. This is much more serious than my feathers being a bit ruffled. Prejudice in music is completely dreadful. They're effectively saying that Hendrix is all right in the Marquee Club, but not in the Albert Hall.'
The Four Seasons will be performed at Wednesday's concert with the French duo of sisters Camille and Julie Berthollet.
Read: Nigel Kennedy: 'Critics were pretending I was playing out of tune because I'd sold a few records'
Read: 'I'm thinking of giving up classical music - except Bach,' says violinist Nigel Kennedy
Read: Violinist Nigel Kennedy considers leaving 'fascist' UK for Germany