The Bowmakers journeys from the workshops of Port Townsend to the Brazilian Amazon rainforest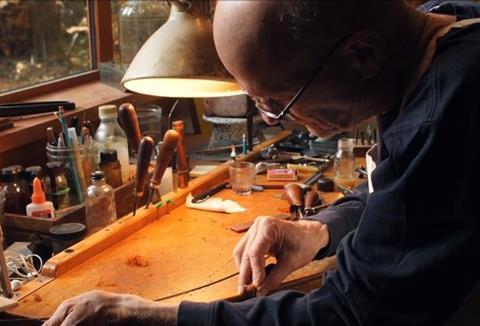 Bow maker Charles Espey in a still from The Bowmakers
'Astonishingly, Port Townsend hosts more master bowmakers than any other place in the world. The Port Townsend Five have won 23 gold medals in international competitions.'
So reads the literature accompanying a new film by documentary director Ward Serrill called The Bowmakers. The picture takes viewers on a journey from the workshops of five master bowmakers in the Pacific Northwest, to the origin of the bow in France, and on to Brazil, 'home of the imperiled tree from which the finest bows are made'.
'Few people, even among lovers of classical music, think of the bow as an instrument in its own right, but players of stringed instruments see them differently. To musicians, the bow is as essential to expressing the soul of the music as the violin or cello.'
Featured are makers Charles Espey, Robert Morrow, Ole Kanestrom, Cody Kowalski, Stéphane Thomachot, Joséphine Thomachot, Noel Burke and Paul Siefried, one of the world's foremost bowmakers and a founder member of the American Federation of Violin and Bow Makers, who has died aged 69.
Read: Bowmaker Paul Martin Siefried has died
The film, which premiered on 17 August at Rose Theatre, Port Townsend, as part of the Port Townsend Film Festival, also has a powerful environmental message, its makers say. 'It reveals how centuries of plunder in the Amazon have put the Pau-Brasil tree — the magical wood from which bowmakers create the best bows — in danger of extinction. Ultimately, this is a hopeful story as the bowmakers endeavor to save this precious species.'
Watch: The Bowmakers Trailer

The film's producers plan for the picture to be screened in concert halls, academic institutes and conference centres across the US in 2020. Visit https://thebowmakersfilm.com and sign up to the newletter to receive information on release dates and venues.