Over 90% of participants began playing the violin before the age of five and average age across junior and senior categories has dropped to 15 for the first time, with the youngest aged ten and oldest 21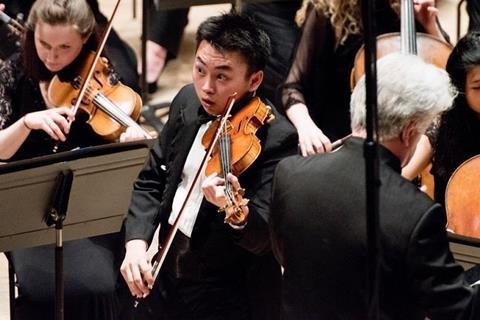 The Menuhin Competition has today revealed the 44 young violinists who made it through the pre-selection process to be accepted for its 2018 edition, taking place in Geneva.
The competition received 317 applications for the 44 positions available across junior and senior categories.
The announcement notes that participants come from 16 countries and five continents, representing 17 nationalities, with 46% from Asia, 35% from USA, 15% from Europe and 4% from the rest of the world. Brazil and Slovenia will be represented by competitors for the first time in the Menuhin Competition's history, and the average age of participants has dropped to 15 for the first time, with the youngest aged ten and the oldest 21.
Founded by Yehudi Menuhin in 1983, the competition is separated into a Junior Division, open to violinists aged between 11 and 15, and Senior Division for ages 16 to 22.
The biennial competition is unusual for moving to different locations each edition: the previous event, 2016, in the 100th anniversary year of founder Yehudi Menuhin's birth, took place in London. Its winners were Ziyu He (Senior Division, pictured) and Yesong Sophie Lee (Junior Division).
Previous prize winners include Tasmin Little, Nikolaj Znaider, Ilya Gingolts, Julia Fischer, Ray Chen, Chad Hoopes, Stephen Waarts and Callum Smart.
The United States has the largest representation this year, with 14 participants, followed by South Korea with nine, Japan with six and China with five. In the junior category, 68% of the participants are female, while in the senior category the ratio is reversed with 70% male.
'The pre-selection jury and I were particularly impressed by the technical and artistic level of the candidates,' said Gordon Back, the competition's artistic director.
'For the youngest among them, the Competition will be their first international experience, and we are absolutely delighted to give them the opportunity of participating in this event which is all about cultural connection, exchange and learning.'
List of participants
Senior
Diana Adamyan (Armenia), 17
Otto Antikainen (Finland), 18
Rio Arai (Japan), 18
Zachary Brandon (US), 18
Qing Yu Chen (US), 17
I-hao Cheng (Taiwan), 19
Elli Choi (US), 16
Michael Germer (Denmark, 15
Yehun Danny Jin (South Korea), 18
Elena Kawazu (US), 19
HyunJae Lim (South Korea), 20
Dong Min Lim (South Korea), 16
Zhen Liu (China), 20
Tianyou Ma (China), 17
Nathan Mierdl (France/Germany), 19
Nikola Pajanović (Slovenia), 18
Sumina Studer (Switzerland), 21
Takumi Taguchi (US/Japan), 16
Eric Tsai (US), 20
Julian Walder (Austria), 17
Jinyu Wang (China), 20
Jinyoung Yoon (South Korea), 19
Junior
Jiyee Jen Ahn (South Korea), 14
Non Aoyama (Japan), 13
Chloe Chua (Singapore), 11
Nurie Chung (South Korea), 12
Marley Erikson (US), 14
Jacques Forestier (Canada), 13
Helen Hyun (US/South Korea), 12
Miray Ito (US/Japan), 15
Yeyeong Jin (South Korea), 14
Kyota Kakiuchi (Japan), 14
Hina Khuong-Huu (US/Japan/France), 13
Caecilia Lee (US), 14
Christian Li (Australia), 10
Haewon Lim (South Korea), 13
Ruibing Liu (China), 12
Sean Mori (US/Japan), 15
Christina Jihee Nam (US), 15
Serin Park (US), 13
Guido Sant-Anna (Brazil), 12
Clara Shen (Germany), 12
Hanchi Shi (China), 14
Anatol János Toth (Switzerland/Germany), 14
Full programme and tickets available on https://2018.menuhincompetition.org