Among the offerings was a Silent Quartet Roulette, performances from the Dover Quartet and Anne Akiko Meyers, the opportunity to try some of the world's finest instruments, and a wide array of talks and workshops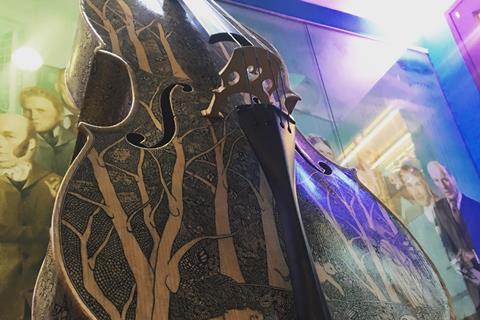 Stradfest, The Strad's new event designed to help string players develop a rewarding career, took place yesterday, in association with J & A Beare.
Held at the Royal Institution of Great Britain in London, it featured a programme of talks and workshops, delivered by professionals from leading orchestras, competitions, record labels and conservatoires. Advice was offered on impressing at auditions, working on stage presence, improving social media skills, succeeding in competitions, creating a digital portfolio and looking after physical and mental health.
There was also guidance from luthiers and dealers on finding, acquiring and looking after instruments - as well as the opportunity to see, and even play, a selection of fine instruments - among them some by Antonio Stradivari.
Attendees took part in interactive sessions, not least a 'silent quartet roulette', playing on Yamaha electric instruments, and a relaxed introduction to improvisation.
In addition, the day featured a number of stands and exhibitions, including The Strad Exhibition, which comprised photographs of some of the world's greatest string players from our archive; and a gallery showcasing the works artist and violinist Leonardo Frigo, who has been transforming stringed instruments into pieces of visual art for the past decade. Frigo himself was there too, working on a new piece during the event.
Prizes were awarded: to violinist Iona Allan, who won a Gewa instrument case, and to Casey-Joan Whyte, who won the iClassical Academy Grand Prize of a video recording for a free promotional piece on their MusiXange platform.
Furthermore, there were a number of performances, from violist Timothy Ridout, The Dover Quartet, and finally, violinist Anne Akiko Meyers playing on her c.1741 'Vieuxtemps' Guarneri 'del Gesù' – the world's most expensive instrument. Her programme with pianist Gordon Back, which also included music by Mozart and Rautavaara, culminated in a barnstorming performance of Ravel's Tzigane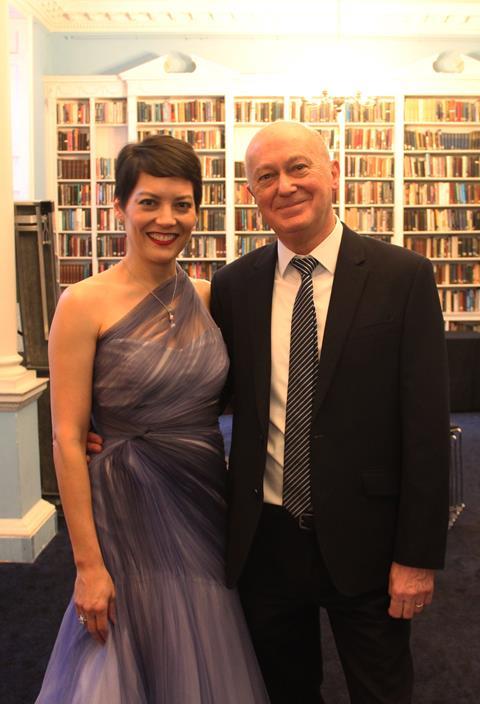 Anne Akiko Meyers and Gordon Back after their Stradfest recital

Speakers and experts on the day included:
Gordon Back, Menuhin Competition artistic director
Mark Messenger, Royal College of Music head of strings
Rodney Friend, violinist and Royal Academy of Music professor
György Pauk, violinist, master teacher iClassical and Royal Academy of Music professor
Pavel Berman, violinist, master teacher iClassical and Conservatorio della Svizzera italiana professor
Matthew Jones, violist and Guildhall School of Music and Drama professor
Dinah Stabb, actor and Guildhall School of Music and Drama professor
Madeleine Mitchell, violinist and Royal College of Music professor
Alexander Buhr, Decca Classics managing director
Christian Girardin, Harmonia Mundi artistic director
Patrick Lemanski, Warner Music UK director classics
Franz Klanner, Thomastik-Infeld head of development
Ed Milner, HarrisonParrott associate director, artist management
Max Grosch, jazz violinist and Yamaha Artist
François Rive, cellist and former Royal Philharmonic Orchestra principal
Robert Smissen, Academy of St Martin in the Fields principal viola
Nicholas Bootiman, Philharmonia viola no.2
Esther Abrami, violinist and Gewa Soloist
Segun Akinola, film and TV composer
Tara Persaud, Solea Management associate director
Charlotte Gardner, music critic and journalist
Brian Jackson, BBC Radio 3 editor
Kathleen Ross, cellist and Classical Vision director
Claire Cordeaux, British Association for Performing Arts Medicine director
Hannah Goodwin, Guildhall School senior health and welfare advisor
Rosalie Segal, Alexander technique specialist
Simon Morris, J & A Beare managing director
Steven Smith, J & A Beare managing director
Robert Brewer Young, luthier
Julia Sarano, luthier
Derek Wilson, bow maker
Irma de Jong, iClassical Academy executive director
Victor Martin, Classeek CTO
Ariel Lang, MyLuthier director
Pedro Silva, MyLuthier director
We would like to thank all of our leading music industry partners for the event: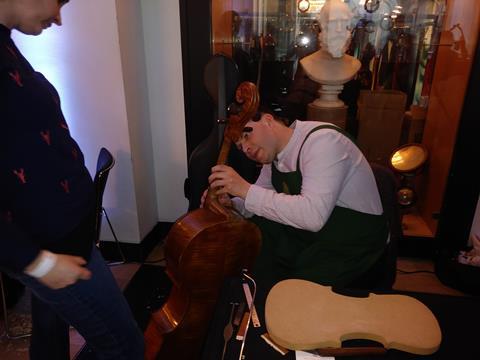 J & A Beare, our headline sponsor, who brought a wealth of fine instrument knowledge and associations with the world's finest luthiers and restorers. Beare's also exhibited some of the finest Italian instruments at the event, among them works by celebrated maker Antonio Stradivari, and offered attendees the opportunity to play them.
W.E. Hill & Sons, whose luthiers presented mini workshops on the care and restoration of instruments. They also encouraged attendees to bring in their own instruments for a health check and assessment.
Gewa displayed their line of instrument cases and offered one as a prize. In addition Gewa soloist Esther Abrami gave a talk on the importance of social media.
Thomastik-Infeld's head of development Franz Klanner spoke about the importance of finding the right set of strings to make the most of your instrument's sound.
Yamaha provided electric instruments for the string quartet sessions. Max Grosch also gave three improvisation sessions in association with the brand.
Musical insurance provider Allianz was on hand to offer advice on insuring instruments, Public Liability and Personal Accident cover and more.
MyLuthier co-founders Pedro and Ariel were on hand to tell attendees about the makers they collaborate with, and to share tips on what to look for when choosing an instrument.
Classical Vision, which provides musicians for on-camera opportunities, looks forward to consulting with attendees on alternative career pathways within the classical music industry.
The Strad's media partner iClassical Academ y was also filming throughout the day, and offered the chance for one Stradfest attendee to win a video recording for a free promotional piece on their MusiXange platform. iClassical artists György Pauk and Pavel Berman gave individual talks and took part in the panel discussion on competitions.
We would also like to thank our supporters:
The European String Teachers Association (ESTA), which is dedicated to the needs of string teachers across the UK, providing support and professional development through their website and magazine, Arco, and by organising events across the country throughout the year.
The Incorporated Society of Musicians (ISM), which since 1882 has been dedicated to promoting the importance of music and protecting the rights of those working in the music profession.
For full Stradfest programme details, visit www.stradfest.co.uk