The TravelBass can be broken into separate components for transport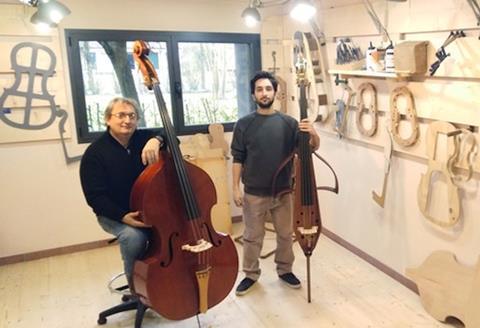 A new kind of portable double bass has opened up possibilities for travelling professional bassists. TravelBass, developed by the Italian product designer Gionata Quercetani and his violin maker father Desiderio, can be broken down into separate components for transport in a custom case, and assembled for play later on.
Currently raising funds on Kickstarter, its inventors, from Parma in Italy, believe that musicians should be able to take the instrument on aircraft as carry on luggage in a custom hard case.
Originally dreamt up in the summer of 2012, the TravelBass is fashioned from cedar, maple and ovangkol wood using a similar acoustic chamber construction method to that for making Italian violins.
The maple bridge slots into holes in the body, the adjustable neck bolts onto the body and the 41.3 inch scale ebony fingerboard is made up of two parts that split apart for travel. Two adjustable bentwood shoulders reproduce the double bass silhouette.
Kickstarter pledges for a TravelBass start at US$3,449, and if all goes to plan, shipping is estimated to start in September.
The TravelBassBox is actually a little larger than regular baggage at 35 x 13 x 9 in (88.9 x 33 x 22.6 cm), so musicians may need to negotiate with the airline before setting off on their trip. But the TravelBass team says that if such negotiations fail, the hard case has been designed to withstand journeys in the cargo hold.