Cellist Jaime Compton has faced continued uncertainty travelling with her cello on Frontier Airlines, due to disagreement on whether the instrument was allowed on the aircraft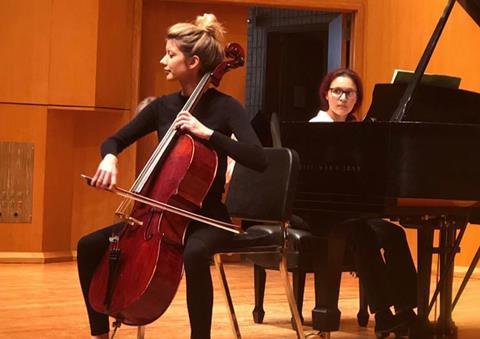 UPDATE 9 JUNE 2023: Compton has been in touch with The Strad. She writes:
Thank you so much for writing this article and getting it out to the public.
Because of your article, I received a phone call from Kendra Piper, from the Frontier Airlines executive office. She wanted to give me a formal apology and let me know that I was flagged for my 7 June flight so that no one would give me any difficulty about traveling. She acknowledged that there is confusion and a lack of clarity for cellists. I hope this article will influence Frontier Airlines to be a cellist-friendly airline.
My flight yesterday was great. A little bit awkward for me because I'm actually not confrontational, in any form. I arrived at the gate and the staff was whispering and nodding in my direction. Everyone was super kind and very careful when speaking to me, they were definitely walking on eggshells. I sympathise because the goal isn't to get anyone in trouble or make anyone's job more difficult but just to have a company honour its policies.
Read more news stories here

Confusion between Frontier Airlines staff members regarding the airline's onboard baggage policy has left a cellist subjected to indecision and uncertainty while attempting to travel with her cello.
Jaime Compton, a cellist with the Baton Rouge Symphony, was travelling on 24 May from New Orleans to visit family in Philadelphia, with a stopover in Orlando. She had boarded the Frontier Airlines flight and had buckled her cello in a seat, for which she had paid a separate ticket.
A flight attendant then approached Compton, proclaiming that the gate agent should not have let Compton board the plane with the cello. 'The gate agent said, "should we remove her now?,"' Compton told The Strad. 'Another flight attendant stepped in and said that Frontier's policy allows me to fly if a seat is purchased. The original flight attendant said that a memo was sent out that this is no longer allowed.
'The three argued, while I sat anxiously. They decided among themselves that I would fly.'
Compton arrived in Orlando, waiting at the counter to address the issue before the next flight. 'I showed the agent the policy,' continued Compton. 'As soon as I walked on the plane a flight attendant said, no, we do not do this anymore. We stood in the corner of the plane where the drinks are, working through the issue.
'I showed the posted Frontier policy, they stated that regardless of the policy they are not allowing this anymore. I kindly asked them to let me get to Philadelphia, I don't live in Orlando, I'm alone, it's been a stressful travel day. They allowed me.'
During the flight, Compton was approached by a flight attendant, Jordan Tully, who apologised for the confusion between the airline's policy and the attendants' interpretation of the policy. Tully took Compton's personal email address and messaged her later, clarifying, 'we no longer allow cabin seat baggage.' However, Frontier's policy states 'Large musical instruments, such as cellos, which will not fit in the overhead bin may only be carried on board the aircraft if a seat if a seat is purchased.'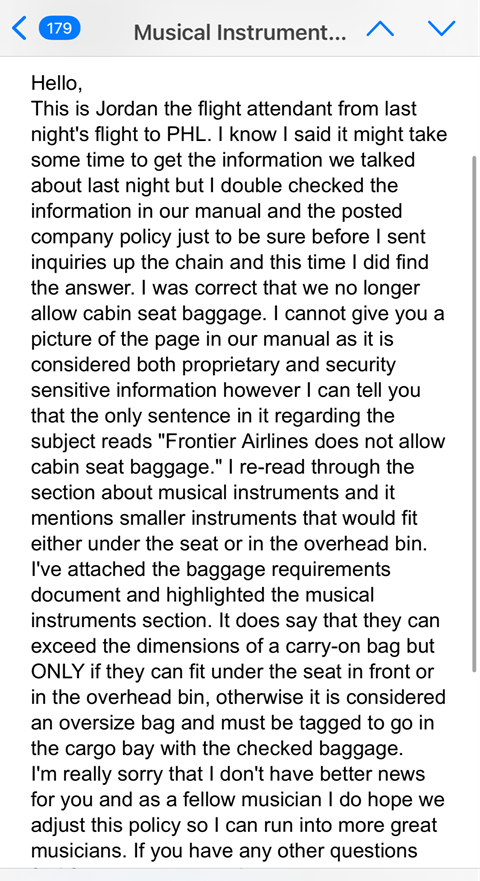 Compton has an upcoming flight from Philadelphia to New Orleans on 7 June, which she faces with trepidation. Wanting to avoid conflict on the plane, she reached out to Frontier's customer service online.
'They began by telling me unfortunately I cannot fly with the cello. I asked for a refund due to buying my ticket under false circumstance because their policy clearly states otherwise. After discussion, directing him to their policy, Special-Fragile items, musical instruments large, he saw this very specific policy and he said they will allow me to fly under my specific circumstance. We will see what happens on 7 June.'
Compton will refuse to put her cello under the plane. 'I work 10 June so hopefully I will not have to drive from Philadelphia to Louisiana!' She states that her previous travels with her instrument have always been simple, as she purchases a separate seat for the cello.
'I want cellists to be aware that airlines they have used in the past do not necessarily have the same policies as they previously had and to have the policy in hand and be ready to stand up for yourself (with kindness of course). I also hope airlines can realise that they are making the lives of string players more difficult. We are a community that relies on airlines to travel to perform, to teach. I can only imagine how professional string quartets are feeling,' she concludes.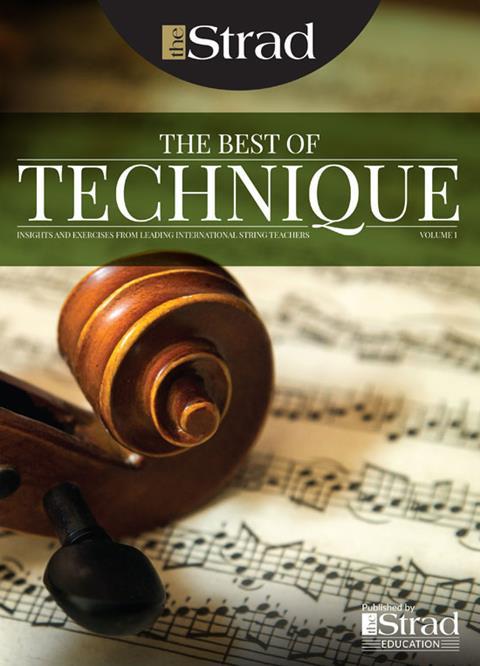 In The Best of Technique you'll discover the top playing tips of the world's leading string players and teachers. It's packed full of exercises for students, plus examples from the standard repertoire to show you how to integrate the technique into your playing.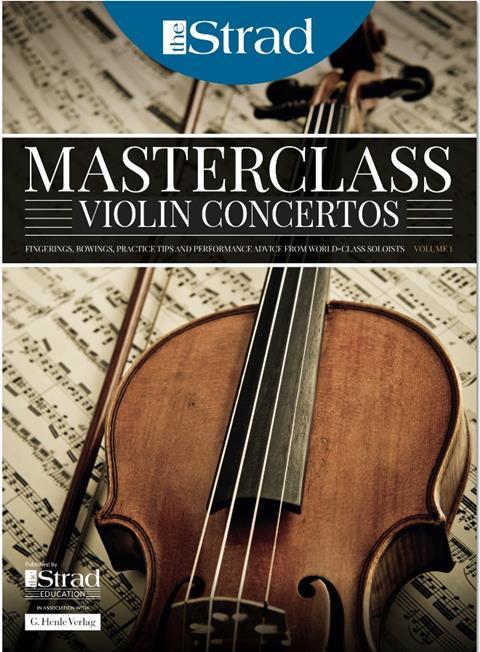 The Strad's Masterclass series brings together the finest string players with some of the greatest string works ever written. Always one of our most popular sections, Masterclass has been an invaluable aid to aspiring soloists, chamber musicians and string teachers since the 1990s.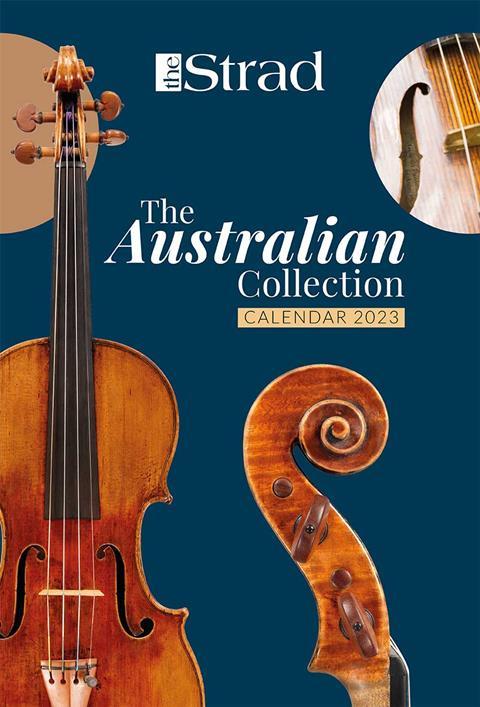 This year's calendar celebrates the top instruments played by members of the Australian Chamber Orchestra, Melbourne Symphony, Australian String Quartet and some of the country's greatest soloists.