The 18-year-old takes home €11,000 in prize money at the Salzburg-based contest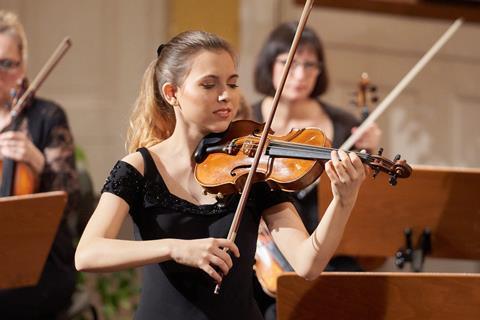 Clarissa Bevilacqua has won the first prize at the 14th International Mozart Competition of the Mozarteum University Salzburg. The 18-year-old, from Italy, received not only the €10,000 first prize but also the €1,000 audience award and the special award for the best interpretation of a piece by Mozart – a copy of Bärenreiter's New Mozart Edition. Bevilacqua, who has studied with Maria Luisa Ugoni, Daniele Gay, Olga Kaler and David Taylor, performed the composer's Violin Concerto no.5 KV219 in the final round. Two years ago, aged 16, she became the youngest student ever to receive a Bachelor of Music in Italy.
Second prize and €7,000 went to Yun Tang, 27, from China. She has previously won prizes at the Shanghai Isaac Stern Competition, the International Yankelevich Violin Competition and the Schoenfeld International String Competition. Third prize went to 18-year-old Lorenz Karls, who was born in Vienna to Austrian-Swedish parents.
This year's jury was chaired by Benjamin Schmid (Austria) and comprised Pierre Amoyal (France), Lars Anders Tomter (Norway), Jan Vogler (Germany), Andre Mijlin (Spain), Hanna Weinmeister (Austria) and Gerhard Schulz (Austria). A total of 182 applicants from 37 nations registered for the 2020 competition, with 28 violin candidates admitted. Each of the three finalists performed with the Salzburg Orchestra Soloists under the direction of Tibor Bogányi.
All photos: Mozarteum University/Christian Schneider