Anita Lasker-Wallfisch has been awarded the prize for her decades of campaigning against anti-semitism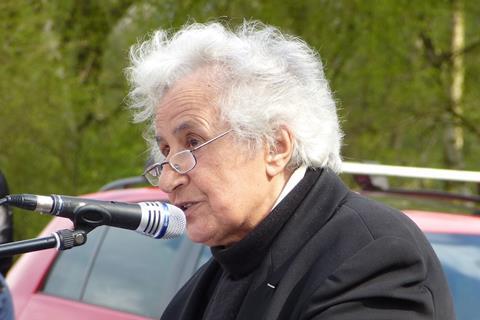 Anita Lasker-Wallfisch, the 93-year-old cellist who surived Auschwitz with her sister, has been awarded the German National Prize for her tireless campaigning against anti-semitism.
Born into a German-Jewish family in 1925 in Breslau (today Wroclaw, Poland), Anita began learning the cello at a young age, and frequently played chamber music with her two sisters.
When the war broke out, her lawyer father and violinist mother successfully managed to get their eldest daughter Marianne to safety in England in late 1939, before being deported. Anita never saw them again.
Entering an orphanage, Anita and her sister Renate worked for a time in a paper factory and were therefore not immediately deported themselves.
There they began forging papers to enable French forced laborers to cross back into France. But when they themselves attempted to flee to France with forged passports in June 1943, they were arrested at the train station and sentenced to prison.
Five months later,the sisters were deported separately to Auschwitz, where Anita was inducted into an orchestra of prisoners led by Alma Rose, Gustav Mahler's niece. Anita later said that the cello saved her life.
In November 1944, as Soviet troops approached Auschwitz, Anita and her sister were sent to the camp at Bergen-Belsen. Many people died of malnutrition, and there were instances of cannibalism. But there too, Anita played in a group of 11 women musicians from the former Auschwitz orchestra.
After British troops liberated the camp on April 15, 1945, Anita was a witness in the Bergen-Belsen trial. She emigrated to Belgium and, in 1946, to Britain. In London, she was a founding member of the English Chamber Orchestra, with whom she continued to perform until the turn of the millennium.
For almost fifty years, she refused to set foot in Germany, but since 1994 she has travelled there several times, giving lectures at schools about the consequences of anti-Semitism. In 2015 she was among the survivors who were invited to join Queen Elizabeth II in the group of the onetime concentration camp at Bergen-Belsen.
The red sweater she had worn there decades earlier is exhibited at London's Imperial War Museum. In 2016, she was awarded the Prize for Understanding and Tolerance by the Jewish Museum in Berlin.
On January 31 2018, she was the main speaker in the Bundestag's commemoration of Holocaust Memorial Day, an event that was also marked by a performance from her cellist son Raphael Wallfisch, who played 'Prayer' — a piece from 'From Jewish Life' by the composer Ernest Bloch.
'As long as one breathes, one hopes,' Lasker-Wallfisch said. 'I've spoken to thousands of students. If 10 of them behave properly, I'll be satisfied.'
On awarding this latest prize, Thomas Mirow, CEO of the German National Foundation, said, '[The Foundation] wishes to underline that, from its perspective, the resistance to all forms of anti-Semitism must be part of the German identity.'