The cellist shares his impressions of Luiz Amorim's unique and expressive contemporary instruments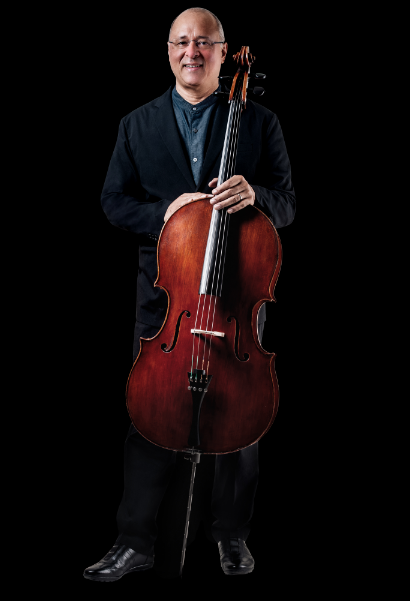 As one of the world's most celebrated cellists, Antonio Meneses has played on some of the finest instruments ever crafted. But when he was introduced to a cello made by Luiz Amorim, he found himself drawn to its unique character and tonal qualities and knew he had to have an instrument of this quality.
'This Montagnana copy gives me some possibilities that I've missed in other instruments,' says Meneses. 'It's hard to explain because I just feel it internally while I'm playing. Not only does the cello sound very powerful, but when I play it I almost forget that I'm playing a modern instrument.'
What really sets Amorim's instruments apart, according to Meneses, is the feeling he gets when he plays them: 'The deep sound of the instrument's bass notes is truly unique,' he says. 'They remind me of some of the great cellos I've tried in my life, including those of Stradivari and Montagnana. It has so many qualities that you'd expect from an instrument 300 years old or more. This fascinated me from the moment that I started trying Luiz Amorim's cellos.'
Meneses also appreciates how Amorim is always looking for ways to improve his instruments, and is prepared to work with musicians to find the sound they want. 'He always has new, helpful suggestions, so the instrument's sound is constantly developing,' he says. 'I think this is one of the great things about Luiz: that he wants to help you find your own sound with your instrument.' For Meneses, the cello has to feel like an extension of himself, and Amorim's instruments meet that criterion.
Meneses isn't the only one who has been impressed by Amorim's work. He has recommended Amorim's instruments to several of his students, and they have felt the same connection to the instruments that he has. 'They have such a wonderful sound that you fall in love with it right away,' he says.
Meneses has owned many instruments, both old and modern, but he says that Amorim's cellos are truly special. In his opinion, Amorim is one of the great violin and cello makers of our time, and his instruments deserve to be played by musicians who want to express themselves fully, seeking a unique and expressive instrument.
Antonio Meneses visits Amorim Fine Violins in Cremona and speaks about his Luiz Amorim cello, based on the 1733 Domenico Montagnana 'ex-Eisenberg' model: