The cellist, who taught at Queens College, New York for over 68 years, died on 2 October 2022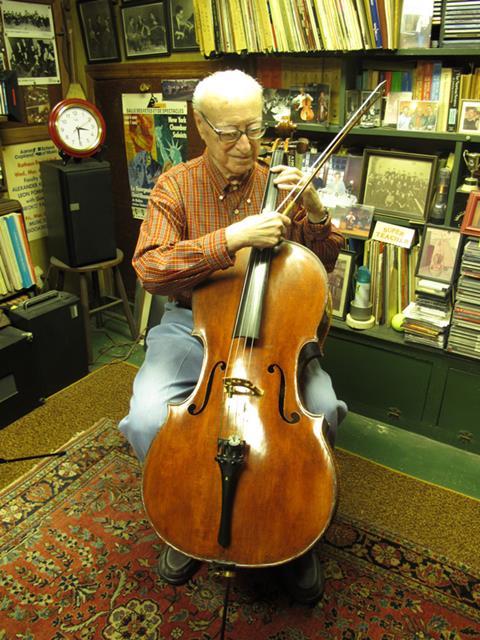 Read more news articles here
Cellist Alexander Kouguell has died aged 102.
Born in Crimea on March 27 1920, Kouguell spent the majority of his childhood and teenage years travelling around the world after his father, Arkadie Kouguall. Both of Kouguell's parents were musicians, training at The N. A. Rimsky-Korsakov Saint Petersburg State Conservatory as pianists, but it was his father's career as a composer and conductor that saw the family move first to Turkey and later to Beirut, Lebanon.
After training as a cellist in both Beirut and Paris, Kouguell tried his hand at pre-med, however one unfortunate incident during a frog dissection before a large cello solo made him reconsider his career deciding instead to leave for America to persue a degree in literature.
Kouguell spent the rest of his life living in America. His first teaching position was at the Peabody Institute in Baltimore as professor of cello. He also played with the Baltmore Symphony Orchestra as assistant principal cello. The unpredictability of the 1940s led Kouguell to move from Baltimore after only a year to New York to join the Aaron Copland School of Music (ACSM) at Queens College City University in 1949.
Kouguell continued teaching at the school for 41 years before retiring from full-time teaching in 1990. He returned for periods over the next 28 years in a part-time capacity.
As a professional cellist, Kouguell was predominately a chamber musician, replacing Donald Anderson as cellist with the Silvermine Quartet alongside violinists Paul Wolfe and Joseph Schor, and violist Jacob Glick. In a review from the New York Times in November 1957, Kouguell's debut solo recital at Carnegie Hall was animated 'with rhythmic life and variety of colour.'
Kouguell's international career came to an end in 2001 after 9/11. In an interview with his brother Dr. Maurice Kouguell for the New York Times Kouguell said: 'Like most people, I went into shock. Then I called my manager and said I would not fly anymore.' His performing career would officially end four years later after recording his last track aged 85.
Celebrating his 100th birthday at the beginning of the pandemic, Kouguell's class organised a large Zoom call to celebrate. Kouguell dedicated a huge amount of his life to the faculty: Kouguall and his wife of 70 years Florence, established the Alexander and Florence Kouguell Cello Scholarship for a talented soloist who participates in chamber music and the Queens College Orchestra while excelling academically. He also donated his instruments, bows, music, and memorabilia to ACSM.