In just two years' time, one of the biggest and most wide-ranging tributes to a composer in history will take place – and preparations have already begun. Katinka Welz reports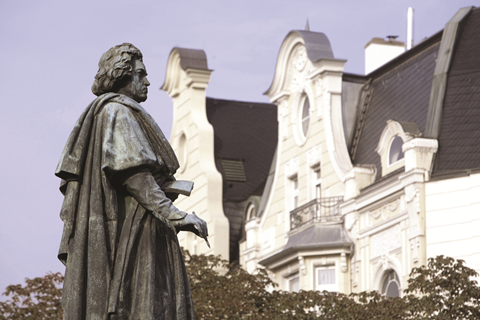 BTHVN2020 is the catchy name that Germany's Beethoven Anniversary Society (BAS) has come up with as an umbrella brand for the various projects taking place in honour of the composer's 250th birthday. From 16 December 2019 to 17 December 2020, it will not just be the city of Bonn, regular host of the annual Beethovenfest, but the entire region of North Rhine-Westphalia that will buzz with events – from historical to contemporary, from static to mobile, from interactive to traditional.
The BAS has made the letters 'BTHVN' (an abbreviation Beethoven himself used on some of his scores) into an acronym for five key aspects of the composer's personality: Beethoven as a citizen of Bonn (Bonner Bürger), a sound artist (Tonkünstler), a humanist, a visionary and a lover of nature (Naturfreund). The planned exhibitions, concerts, lectures, performances and other events will aim to illustrate these five topics.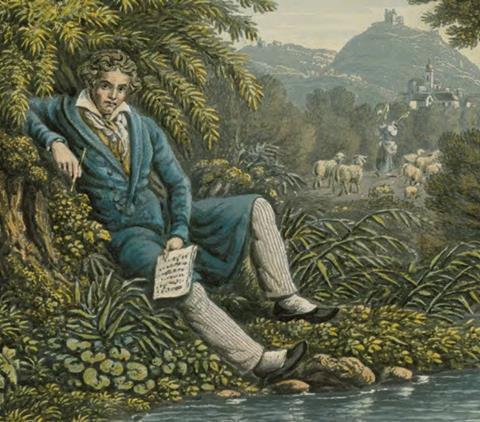 A particular gem among the planned festivities is the Beethoven Pastoral Project, which comes under the 'Naturfreund' heading. The project is a global initiative to raise awareness of climate change, inviting artists and ensembles worldwide to join in a world-spanning network and develop their own interpretations of Beethoven's Symphony no.6, the 'Pastoral', to be performed on Earth Day (22 April 2020) or United Nations World Environment Day (5 June 2020).
In a first phase of the project, launched in June, participants connect, interact and document their artistic contribution on the project's website www.beethoven-pastoral-project.com, where they also post a personal statement on environmental protection and sustainability. Chinese composer and conductor Tan Dun, American composer Uri Caine, German jazz musician Gregor Hübner, the Deutsche Kammerphilharmonie Bremen with its Estonian conductor Paavo Järvi and the Beethoven Orchestra Bonn have already signed up to the project.
'We are following in Beethoven's footsteps from the private individual to the world community' – Christian Lorenz, artistic director, BTHVN2020
A total of €28.5m has currently been earmarked for the festivities, and a first chunk of around €2.3m has now been split between a total of 11 institutions. Subsidies are distributed in five rounds, the remaining deadlines for application being 30 September 2018, 31 March 2019 and 30 September 2019. While the BAS is still in the midst of recruiting further participants and inviting individuals and organisations to apply for grants, it has already announced some of the year's highlights.
The city of Bonn itself will host a citizens' festival, present a new extension to Beethoven's birthplace and install a 'Beethoven circuit', which consists of a series of informational panels around Bonn marking the most important stations in the composer's early biography. Various light and sound installations will illuminate the city throughout the year.
When it comes to the heading 'Beethoven as a composer', one promise is that throughout the year, the entire oeuvre of the highly productive composer will be performed. To aid this ambitious goal, the annual Beethovenfest, which takes place in September, will host an additional spring season. Commissions of new works are another important aspect of the celebrations. Plans include a concert barge named 'Futura', hosting performances of experimental music, which will be floating from Bonn towards Vienna, while the 'base camp new music' is introducing young people to the art of composing.

Kicking off the festivities will be a two-day folle journée of 2,500 concerts to be held in private households, stores, office spaces, restaurants etc throughout Germany on 14 and 15 December 2019. To make this happen, a citizens' initiative called 'Beethoven in private' is inviting everyone who would like to participate to organise concerts, readings, lectures or performances somehow connected to Beethoven. The project aims to be the largest simultaneous private concert and arts initiative in Germany to date and comes under the heading 'humanism'.
'Key to the 2020 jubilee year is active participation,' states Christian Lorenz, artistic director of the BAS. 'We have the unique chance to support a diversity of projects from various genres throughout North Rhine-Westphalia, as well as commission new music.
The Beethoven jubilee is set to be a national event, anchored in the region but with international impact, with events ranging from private domestic concerts to a singalong live stream of the closing concert of Beethoven's Ninth Symphony. We are following in Beethoven's footsteps from the private individual to the world community, triggering impulses on a personal level as well as communicating global visions.'
A major setback for the organisers, however, was the announcement that the refurbishment of Bonn's main concert hall, the Beethovenhalle, is not expected to be complete before mid-2020. Anyone in possession of an alternative venue please step forward.
This article was first published in the July 2018 issue of The Strad