The statues, designed by Ottmar Hörl, will be installed in the composer's birth city this spring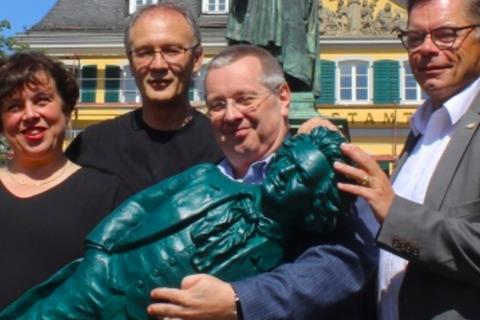 Challenging received notions of Beethoven as the scowling genius, 700 sculptures of the composer will be installed in his birth city of Bonn - all with smiles on their faces.
Entitled, 'Ludwig van Beethoven – an ode to joy', the project marks the composer's 250th birthday in 2020. It is the brainchild of the German conceptual artist and sculptor Ottmar Hörl, whose other work includes statues of Richard Wagner and Martin Luther, as well as the famous Dürer hare and garden gnome.
The green and gold Beethoven sculptures will be about one metre high and will be placed in front of the Beethoven Monument in Bonn's Münsterplatz square this spring as part of an art installation lasting several days.
'To musicians, [Beethoven] is a god. His compositions are of grandiose sensitivity and revolutionary power. But all the world knows him only as a grumpy character. High time for a paradigm shift in collective visual perception,' says Hörl on his website.
Two associations, city-marketing bonn and Bürger für Beethoven, have launched the 'OUR LUDWIG' citizens' campaign to promote the project.
They intend to enlist at least 500 Beethoven patrons to purchase a Beethoven sculpture, and then, when the installation closes, to take them home.
The city's Lord Mayor, Ashok Sridharan, has agreed to act as patron for the project.
Beethoven Year 2020 starts on 12 December 2019 and continues until the composer's 250th Baptism Day on 17 December 2020.
In the video below, Bonner Szene TV reports on the project 'Ludwig van Beethoven'