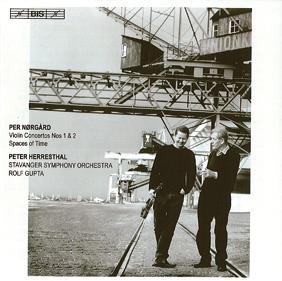 The Strad Issue: January 2012
Description: A master violinist explores two atmospheric Nordic landscapes
Musicians: Peter Herresthal (violin) Ida Mo (piano) Stavanger Symphony Orchestra/Rolf Gupta
Composer: Nørgård
This compelling disc serves as much as a showcase for the unfussy, no-nonsense musicianship of Norwegian violinist Peter Herresthal as it does for the rarefied music of Danish composer Per Nørgård. Herresthal is by turns muscular, introverted and mercurial in the First Concerto, named 'Helle Nacht' (Bright Night) because of its evocations of the shifting blends of light and dark in the Nordic summer night. The music can turn from brilliance to sombreness in an instant, with flashes of gleaming diatonicism illuminating the dense atonal counterpoint. Similarly, Herresthal brings a clean Romanticism to the work's almost folk-like melodies, only to explode into assertive action for its showy pyrotechnics. His vivid, committed reading brilliantly captures the work's luminous, crepuscular world.
The 'Borderlines' of the Second Concerto's title refer to the frontier territory the soloist occupies between two radically contrasting sonic worlds. On the one hand, there is traditional Western equal temperament and on the other a strange microtonal landscape created by overtones in the cellos and basses. Herresthal is entirely convincing, wringing the last expressive possibilities out of not just the ear-tweaking world of sixth- and quartertones, but also the relentless shifting between the two systems. There's a brightness and clarity to his 1753 G.B. Guadagnini, but also a roundness and depth that he exploits to great effect throughout.
Ida Mo is an eloquent soloist in the concertante work Spaces of Time, and Rolf Gupta and the Stavanger orchestra give solid support with some remarkably refined playing. Recorded sound is warm yet transparent and detailed throughout.
David Kettle