The violinist Nona Liddell first met Britten at Sadler's Wells during rehearsals for the Aldeburgh Festival. She performed alongside him for many years, and remembers an extraordinary musician with very high standards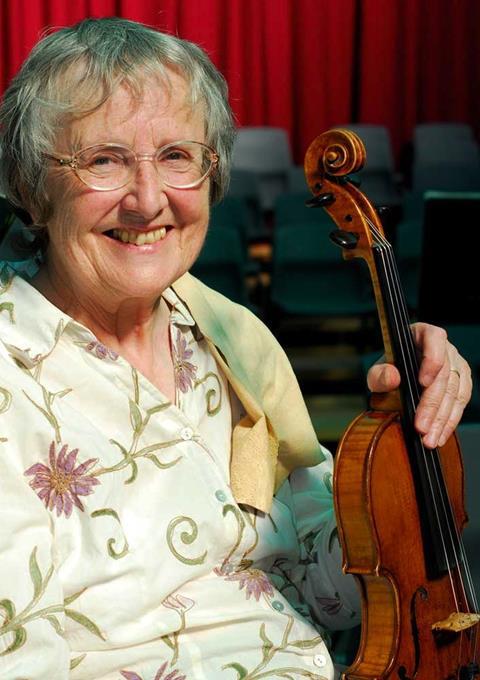 The first time I went to Aldeburgh was in 1950, for the third festival. I was very young and I'd been booked to play with a small orchestra led by David Martin, called the Aldeburgh Festival Orchestra. I already thought Britten's music was marvellous – I'd been to the first production of Peter Grimes when I was a student – but the first time I met him was in Sadler's Wells, when we were rehearsing a Mozart piano concerto for the festival. For the first few festivals Britten always directed a Mozart concerto himself, from the keyboard. My first impression was that he was extraordinary. I was very young and impressionable, but I'd never heard playing like that – as with his conducting, it was sheer music, with no ego.
I continued playing at the Aldeburgh Festival every year until 1968, except for the year after my daughter was born. I was with the English Chamber Orchestra, which was the festival's official ensemble from 1956 onwards.
I always found Britten to be an extremely competent conductor who had a wonderful gift for conveying the music. In 1960 we played in the first production of A Midsummer Night's Dream, and he chose to share the conducting duties with another fine musician, and we found that when we performed it with the other musician, the energy slackened off a little. Then, when Ben came back he would pull it all together again. During each festival he was terribly busy, which is why he had to give up playing concertos – he just didn't have time to practise.
He was a very approachable person when he thought the musicians were doing what he wanted one hundred per cent. He could sometimes get a bit tetchy if he felt someone wasn't taking life all that seriously, but we all loved playing for him and felt it was a great privilege.
There was a famous occasion that occurred when we were at Snape Maltings to make some recordings for a sound archive. Rostropovich was with us, having turned up rather late and hungover – it seems he'd got into a vodka drinking competition on the boat over from Leningrad. Secondly, several members of the orchestra had been delayed and the rehearsal was beginning late – we could see that Ben was looking more and more agitated. Finally, one lone cellist turned up and got out his instrument in double-quick time, and tuned up while feeling Ben's eyes on him. Ready to play, he looked up and Ben shouted: 'AND YOUR MUTE PLEASE!' It was certainly a rare occurrence for him, and became a famous story in the orchestra, though I heard later that Ben had gone to the poor cellist in the interval and apologised for his outburst.
We always knew that everything he wrote was for specific people, or that he had a specific person in mind while he was writing, for instance all the cello pieces he wrote for Rostropovich. They were very close friends and we could tell when he incorporated some of the exercises Slava used to keep his fingers warmed up.
We also played the UK premiere of the Cello Symphony with Rostropovich in 1964. I remember the pair playing the Sonata for Cello and Piano together to an invited audience of members of the English Chamber Orchestra before the first public performance. While they were playing, the wind blew in and Slava's music blew on to the floor – but he had such an incredible memory that he didn't turn a hair and just went on playing.
Britten never conducted anything he didn't want to conduct. He didn't like Elgar when he was young, but he conducted The Dream of Gerontius, and the Introduction and Allgero in later years. He was a little scornful of a lot of people, especially other conductors – he was a pupil of Frank Bridge, who was a very good conductor himself but had failed to get the job conducting the BBC Symphony Orchestra. Consequently, Ben was very scornful of Adrian Boult, who did get it.
He often got nervous before a performance, because he had very high standards. He also had a lot of pain in his back, especially in his later years, and he'd have to take a slug of brandy before a performance just to get him through it. His posture wasn't good either – he was quite round-shouldered. We knew he suffered from nerves but then one always should have nerves if you want to be an artist.
Subscribe to The Strad or download our digital edition as part of a 30-day free trial.