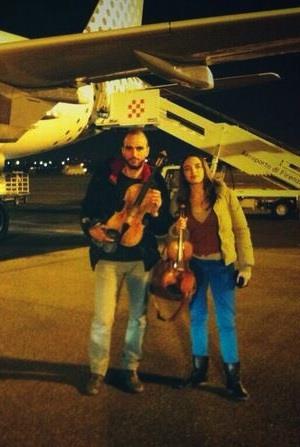 Three members of the French string quartet Quatuor Voce were requested to remove their stringed instruments from their cases before taking them on board a flight, the ensemble reported on Twitter.
The musicians were at Paris's Orly Airport booked on a flight with the Spanish airline Vueling Airlines, and were about to check-in their instruments inside their cases as cabin baggage when they were prevented from doing so by airport check-in staff.
Speaking to The Strad, the ensemble's cellist Lydia Shelley said she had booked an extra seat for her cello and had checked it in without a problem. 'When my colleagues began to check-in their instruments as cabin baggage, the staff at the check-in desk told them their instruments did not fit within the cabin baggage gauge and that they would have to remove their instruments from their cases, check the cases into the hold, and take their instruments on board with them,' she said.
'Two violin cases side-by-side take up the same space as two carry-on suitcases, but they are a different shape. Because of this, my colleagues had to negotiate putting their instruments on board without their cases. They then had to pay €35 each to check their empty cases into the hold.'
The quartet's two violinists and violist were also required to send their instruments through the airport security scanner without their cases, the cellist added.
'The check-in staff showed a total disregard for people trying to work, but also for passenger safety since my colleagues were sitting on board a flight with their instruments on their laps or on the seat next to them,' said Shelley. 'The flight was half empty, so it was not an issue of space. Other passengers on board couldn't believe what they were seeing.'
The instruments survived intact, but Shelley says the story highlights the continuing problem of uncertainty facing musicians looking to take instruments on board flights: 'You turn up and you don't know whether you're going to be able to take your instrument on board or not.
'For the quartet, it was the worst travel in nine years but it's also true that we already have had problems with taking instruments on board flights. When we travel we know that we will maybe have to negotiate for our instruments. Until this very bad experience, it was sometimes complicated but finally OK.'
Got a travel story to share? Email us at thestrad@thestrad.com
Subscribe to The Strad or download our digital edition as part of a 30-day free trial.
Photos courtesy Lydia Shelley