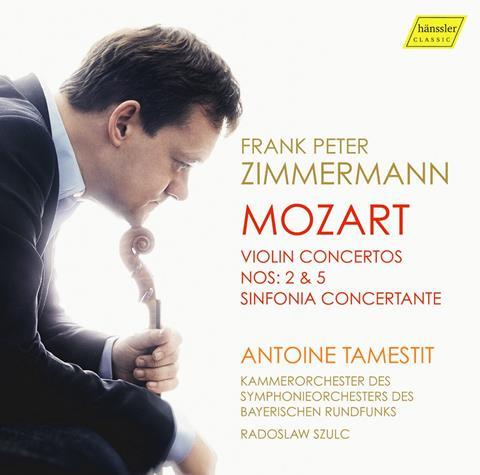 THE STRAD RECOMMENDS
The Strad Issue: May 2016
Description: Zimmermann continues his new cycle of Mozart's violin concertos
Musicians: Frank Peter Zimmermann (violin) Antoine Tamestit (viola)1 Bavarian Radio Symphony Chamber Orchestra/Radoslaw Szulc
Composer: Mozart
This is the second volume of Frank Peter Zimmermann's new traversal of Mozart's violin concertos, following his set for EMI begun in 1984 aged 19 (see last issue). Yet his playing here sounds even more youthful and spontaneous. Some of this is a result of his espousal of the advances in period performance, but it also has to do with a genuine wonder – whether despite or because of his experience of playing these works around 300 times apiece. While he keeps Zukerman's cadenza for the first movement of the Second Concerto, he perhaps understandably eschews Joachim's overly upholstered offering for that of the Fifth.
Zimmermann's youthful verve is nowhere more apparent than in the opening Allegro moderato of no.2, while in the Adagio of no.5 he strikes a persuasive balance between spaciousness and flow. The Sinfonia concertante takes on a richer depth of expression, and Zimmermann's partner, Antoine Tamestit, makes
for an ideal partner, not least for his lightness of touch. Throughout the disc the orchestra is strikingly directed by young Polish concert-master and conductor Radoslaw Szulc with fertile imagination, not only in the stomping 'Turkish' episode of no.5's finale but in countless natural-sounding details of balance and phrasing, which are given full voice in this warm and detailed recording.
Enter our competition to win one of ten copies of this CD
Edward Bhesania