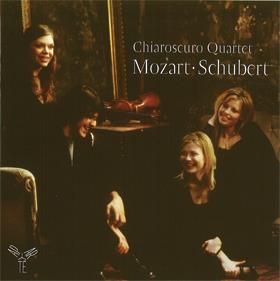 THE STRAD RECOMMENDS
The Strad Issue: January 2012
Description: A young quartet belies its name in the subtle colouring of its playing
Musicians: Chiaroscuro Quartet
Composer: Mozart & Schubert
Formed in 2005 at the Royal College of Music, the Chiaroscuro Quartet has the inestimable advantage of having Alina Ibragimova as its leader. What immediately strikes one about this gifted ensemble is the subtle range of tonal colours the players produce in music that is often treated to a kind of all-purpose Classicism.
Using original instruments, the emotional ebb and flow of Mozart's 'Dissonance' Quartet becomes more sharply delineated, with passages of contrapuntal interplay interwoven with virtuoso aplomb. The dynamic give-and-take of the Menuetto is relished free of 'authentic' mannerism, and the finale is kept light as air, its staccato delicacy articulated within affectionate, arched phrases that lead the ear on irresistibly.
The sense of desolation and loneliness that lies at the heart of Schubert's 'Rosamunde' Quartet is brought simmering gently to the surface via an exquisite, (mostly) senza-vibrato purity that reveals Schubert's textural fantasy with the gentlest of touches. Played like this the music emerges with invigorating freshness and clarity, unburdened by layers of interpretative accretion, and the discreet engineering captures the moving intimacy of the results with disarming naturalness. One of the most impressive chamber recording debuts of recent years.
JULIAN HAYLOCK