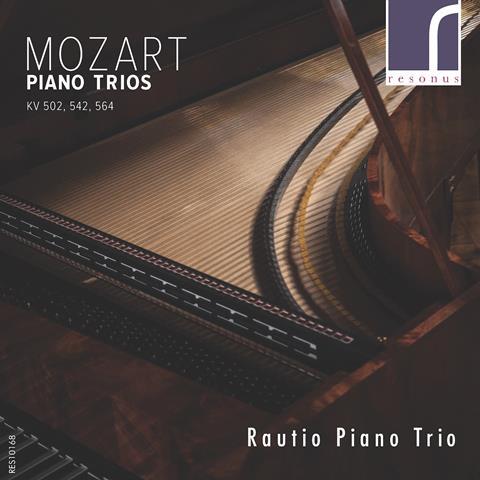 The Strad Issue: October 2016
Description: Joyful period performances of three of Mozart's piano trios
Musicians: Rautio Piano Trio
Composer: Mozart
Catalogue number: RESONUS RES 10168
In a booklet note to this recording of three of Mozart's six piano trios, the players of the Rautio Piano Trio make an eloquent case for the works and their pivotal position between those of Haydn and Beethoven. It's a case that's eloquently supported by performances of real vitality and fizz.
Jan Rautio plays a Derek Adlam fortepiano after Anton Walter, a beautiful-sounding instrument with a pleasingly mellow twang to its sound – especially lovely in muted mode, which is heard to ravishing effect in the minore variation of K564's middle movement. Both Jane Gordon and Adi Tal are happy, meanwhile, to exploit the period buzz and bite of their violin and cello (not identified in the booklet). Gordon in particular produces a bright, vibrato-light tone that she seems reluctant to bring below mezzo-forte, even if she produces some beguiling phrases in the slow movements; at times, the strings risk dominating the keyboard.
Overall, though, the sheer joy and bounce of the performances win through. Despite the occasional rhythmic eccentricity, there's a natural flexibility that's refreshing, a gentle way with ornaments (some written, others not) and, especially as K542's finale launches into its triplet passages, an infectious sense of toe-tapping delight. Most enjoyable, then, and the recorded sound is clear and engaging too.
Hugo Shirley