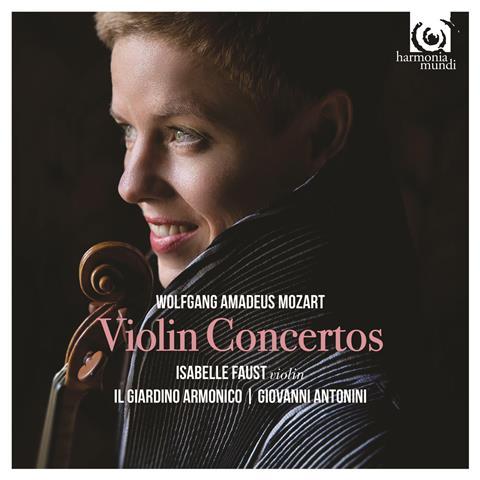 The Strad Issue: February 2017
Description: Period playing and new cadenzas in the five Mozart concertos
Musicians: Isabelle Faust (violin), Il Giardino Armonico/Giovanni Antonini
Composer: Mozart
Catalogue number: HARMONIA MUNDI HMC 90 2230/31 (2 CDS)
This is now one of several sets of the Mozart concertos I have reviewed for The Strad and it is very good. Harmonia Mundi crafts a wonderfully clear sound, the playing is exemplary and, here, there is the added frisson of a celebrated 'period instrument' player in Isabelle Faust (from 2016 'artistic partner' with the Mahler Chamber Orchestra), as well as the superb Il Giardino Armonico.
One might expect lightness, detailed phrasing, buoyant tempos and a pliable yet ascetic sound world from gut strings and transitional bows (with lots of small-scale accentuation and, of course, no vibrato). One might also expect rhythmically precise playing and immaculate intonation, as well as rumbustiousness in fast movements, including rasping natural horns and slapping noises from strings.
While predictable, the results are no less enticing. The K218 concerto exemplifies all of these traits in a very consistent pair of discs – there is a lightness of touch, jewel-like precision and, of course, Andreas Staier's enterprising cadenzas (which include pizzicato in the finale of K216 and stirring polyphony in the first-movement cadenza of K219). Nor do I imply criticism here, although I do wonder about the extent to which traits that align so very closely with present ideals reflect what might actually have been experienced in Mozart's time. In general, I found that the second disc contained more exciting performances, with some unflinchingly emotive playing in K261, pathos magnified
by clean sonorities, while K373 is hauntingly conveyed. A very high-quality and enjoyable product overall – recommended.
David Milsom