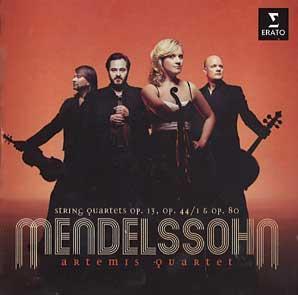 THE STRAD RECOMMENDS
The Strad Issue: January 2014
Description: Passionate, energised playing in three of the composer's quartets
Musicians: Artemis Quartet
Composer: Mendelssohn
Two of these string quartets were conceived as memorials. The A minor work, written when Mendelssohn was 18, responds to the death of Beethoven with youthful angst, expressed by the Artemis Quartet in no uncertain terms with playing full of passion and attack, the sound rich, the phrasing and articulation vivid. The fugal section of the Adagio is caressed, but its fortissimo return is the height of tragedy. The simplicity of the Intermezzo is a refreshing tonic before the turbulence of the finale.
The D major Quartet, written a decade later, seems to be a much more quintessentially 'youthful' piece, and the quartet launches into its explosion of high spirits in fine style, dynamic, crisp and propulsive. The contours of the Andante espressivo are sensitively moulded, and the finale surges forward irresistibly.
There is a lot of powerful playing on this CD, which is aided by the full and spacious recording, nowhere more so than in the F minor Quartet, written after the death of the composer's sister Fanny. This grips from the snarling tremolo opening, on the edge of ponticello, and surges forward relentlessly on a tide of emphatic rhythms and hammered accents.
All the fast movements share this sweeping momentum. In the third-movement Adagio, after its hushed opening, the tension builds in the taut accompanying rhythmic figures before Mendelssohn's midway outcry.


Clip: Mendelssohn String Quartet #2 In A Minor, Op. 13 - 1. Adagio, Allegro Vivace


TIM HOMFRAY