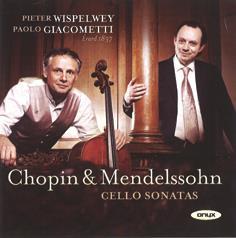 The Strad Issue: January 2011
Description: Cellist and pianist uncover the Beethovenian influence behind two Romantic sonatas
Musicians: Pieter Wispelwey (cello) Paolo Giacometti (piano)
Composer: Mendelssohn, Chopin
Pieter Wispelwey strips away the sweet veneer of Mendelssohn's music to uncover a strong connection with a Beethovenian impulse in the Second Cello Sonata. Paolo Giacometti's decision to partner the cellist on an 1837 Érard fortepiano serves this idea perfectly by lightening the textures so that the balance between the two instruments is more easily maintained. The opening movement is gloriously energetic and vital, humorous and bold by turns with strongly characterised articulation and a wide range of dynamics. The recording's generous acoustic is especially persuasive in the scherzando pizzicato opening, while the mood becomes more highly charged with the entry of the bowed phrase. Wispelwey and Giacometti project a fervent but controlled passion at the opening of the Adagio and the ensuing finale is delivered with virtuosic brilliance.
Both artists encapsulate a shimmering eloquence in the captivating bel canto melodies of the Chopin waltz arrangements. The Cello Sonata, on the other hand, is a stormier affair, and again Wispelwey and Giacometti hark back to Beethovenian gestures in sustaining a dramatic conception and searing intensity throughout the lengthy first movement. An exquisite lyricism graces their approach to the all-too-short Largo, which in turn yields to the lighter mood of the finale, although a strong sense of fervour never really leaves either the music or this spectacular performance.
Joanne Talbot