In this excerpt from the July 2021 issue, Sisi Ye examines a violin making programme in Beijing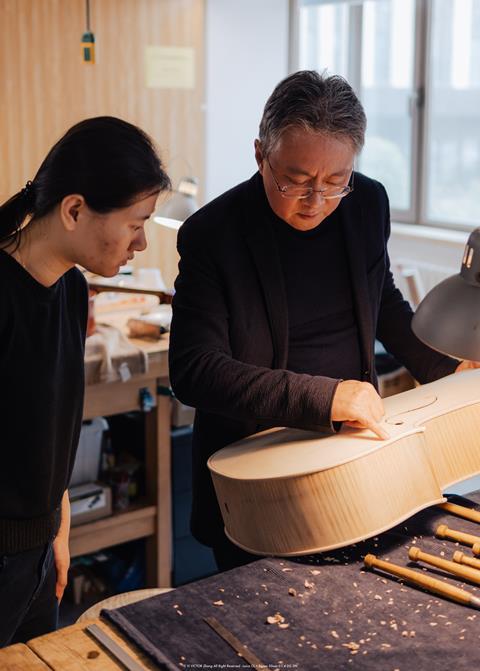 The following extract is from The Strad's July issue feature on violin making schools in China. To read it in full, click here to subscribe and login. The July 2021 digital magazine and print edition are on sale now
Beijing's Central Conservatory of Music (CCOM) established its violin making and research degree programme in 1989. It now boasts 49 violin making students and more than 10 resident teachers, with 6 to 8 new students recruited every year. They can enrol from the age of 15 and the course can last for 10 years if they stay on for graduate study. CCOM offers three different areas of study: violin making, bow making and violin restoration, although other modules include: violin maintenance; varnishing; acoustics; draft drawing; the history of stringed instruments; wood science; and instrumental playing. All lutherie students are required to be able to play a stringed instrument to a reasonably high standard, and the entrance exam assesses their ability to make a violin head, carve a plate, or something else related to the craft.
Read: Violin making at Xinghai Conservatory of Music
Read: Violin making schools in China: The way of the future
CCOM's Violin Making and Research Centre provides all students with the wood they need to make their own violin, which will be kept and collected by the conservatoire. As deputy director Gao Tongtong states: 'Those instruments are seen as the students' graduation dissertations. They are not just displayed in a special exhibition space at the Centre, but also played by the string faculty, students and guest artists who want to perform with the "CCOM sound".' In 2019 the violins were used in the finals of a composition competition held in honour of the late CCOM violin pedagogue Lin Yaoji; he was a strong advocate for Chinese-made instruments, which he collected for his whole life. Equally, in 2019 a concert was held in Tiananmen Square for the 70th anniversary of the founding of China. There, the orchestra played instruments made by CCOM teachers and students. Of course this was of huge significance to the programme.
From high school to graduation, students must not only make seven violins but also participate in the training of school orchestras, chamber musician and soloists, as well as present a concert with instruments made by themselves. An understanding of music history, theory and harmony is also required. At postgraduate level, students must produce a complete quartet of instruments, which will be played in a concert by some of the performance students.
In general, the students are asked to complete each part of the making process using the most primitive manual methods (i.e. without any machinery). This includes the most basic skills, such as sharpening knives. Through this learning model and philosophy, the students are expected to develop a better understanding of the artistry and handicraft of violin making. 'As a result, Chinese students have a more solid foundation in the basic skills,' Gao believes. The Centre also recruits teachers internationally to ensure the students can learn and receive the violin making technique globally.
This article was published in the July 2021 Carlo Bergonzi 'Baron Knoop' issue

Micro-CT scanning technology reveals the secrets of the 1735 Carol Bergonzi 'Baron Knoop' violin. Explore all the articles in this issue . Explore all the articles in this issue

More from this issue…