In March 2018, Orest Pusentela invited us into his workshop in Ukraine's cultural capital. Now in 2022, he updates The Strad with his current situation in Ukraine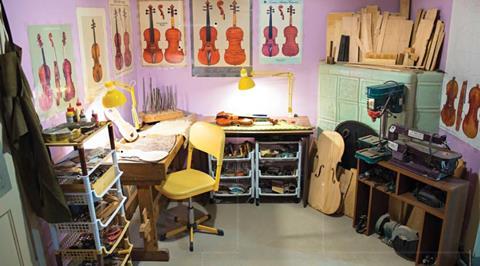 Named Ukraine's Capital of Culture in 2009 the city of Lviv has a vibrant musical life. There is an orchestra, a music academy, an opera and ballet theatre and a state music college, all of which are within walking distance of my workshop. The city's architecture is remarkably diverse, having been untouched by the two world wars. My workshop is based in an Art Nouveau-style building from the 1890s, designed by the well-known architect Jan Lewiński, and it remains in pristine condition. I've been based here for the past seven years and the environment is still an inspiration for me.
The city council gave me the opportunity to move in here because of its 'Workplace for Creative Artists' scheme, which offers space and facilities at low rents to artisans who promote the cultural life of Lviv through their work. As well as being the only full-time maker of stringed instruments in the city, I've discussed my work on TV and radio programmes and have written the only book on violin making published in Ukrainian. It's great to have a workshop that's so centrally located, as it means a lot of musicians drop in to talk about their instruments – they're still my greatest influence.
My studio is made up of two rooms covering around 50 sq m. There is only one window, and I usually have the shutters closed because I favour the 'shadow and light' technique of making, hence the large number of lamps around the studio. The second room is most often used for testing instruments; it is quite spacious and has an arched ceiling, which allows for excellent acoustics. We also use the space for occasional chamber music sessions with my friends and family.
Both my parents are violin makers and I learnt the craft from my father, who trained in Cremona. Many of the tools I use around the workshop were made by him when he started, more than 30 years ago.
UPDATE 11/3/22: Orest Putsentela has sent an update to The Strad: 'Before the war started, I made a prototype of a new kind of shoulder rest, which was to be sent to the United States for further testing. I was developing new models of violin bridges, violins for the VSA Competition in the USA, and I found a way to modify the chinrest for better resonance.
'Then the war came. My family and I had to leave Lviv because of the many alarm alerts, but I have had to return to the city. There is now a high probability that I will be drafted into the army, and for this I need to be at home (this is martial law).
'Men between the ages of 18 and 60 are not allowed to leave the country, with a few exceptions. The President has announced a general mobilisation for the army which will last three months. So, in turn, all men who can hold weapons in their hands will sooner or later go to the front to defend their country. Men who have moved to the west of the country are obliged to join the ranks of territorial defence (on the spot); or return to their home towns and join the territorial defence of their cities; or join the Ukrainian army.
'There were two air alarms in Lviv today (at 5am and 11pm), but Lviv is now overcrowded. There are about 200,000 people from other cities who came from eastern and central Ukraine, cities such as Kharkiv, Sumy, Chernihiv and Kyiv. Most Lviv residents have become volunteers and help displaced people as much as they can with food and housing. I provide housing for twenty people every day. Lviv is also a hub for women and children who want to leave Ukraine temporarily.
'While I'm still at home, I'm helping to fight for my country on the information front! I had to remember the skills I once had (played the piano a bit and made promotional products some 20 years ago). So I made two videos called "Close the sky", calling for a no-fly zone around Ukraine. We are all trying to do everything in our power to win this war. Life will continue, and there will again be a place for the art of violin making in Ukraine!'