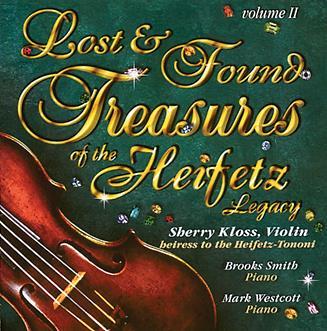 The Strad Issue: January 2008
Musicians: Sherry Kloss (violin) Brooks Smith (piano) Mark Westcott (piano)
Composer: Beethoven, Badings, Rachmaninoff–Heifetz, Haydn–Heifetz, Wieniawski–Heifetz & R. Strauss
This disc should be a fascinating insight into Heifetz's 'inner circle' by performers closely associated with the violinist – Sherry Kloss was his assistant at the University of Southern California in his last years and here plays the Tononi violin he bequeathed to her. In reality, it would be easy to accuse the producers of this disc of clumsily marketed opportunism. The booklet notes are an unpromising conjunction of tasteless fonts and uninformative writing, while the CD sound production leaves much to be desired. The Beethoven, Badings and Strauss performances are live, but the studio recordings of Heifetz's transcriptions sound dull and suffer from microphones being too close to the instruments. There is even some talking in the Rachmaninoff transcription.
In content, the recording is a mixed blessing. While Kloss's powerful vibrato and accentuation (coupled with percussive off-string bowings) might not be everyone's cup of tea, the Beethoven, Strauss and Badings recordings are successful, with considerable technical prowess and displaying a sound very much influenced by Heifetz's own.
Ironically, given the disc's title, it is the transcriptions that let this disc down. Leaving aside the dubious taste of the Haydn arrangement, Kloss's playing can sound oddly inhibited. The Rachmaninoff Prelude begins tentatively, although is convincingly rendered thereafter. The Haydn and Wieniawski works are quite insecure in more virtuosic passages – Kloss's sound is much too heavy and tends towards distortion. Intonation too is far from reliable in the Wieniawski – not something that characterised her former mentor, to whom this disc is intentionally a tribute. For all the interest of the Heifetz 'lost treasure' here, the disc is, sadly, limited and does not fully evoke Heifetz's own extraordinary output.
David Milsom