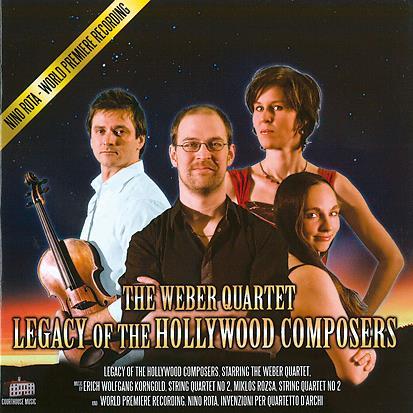 The Strad Issue: January 2009
Musicians: Weber Quartet
Composer: Korngold, Rózsa, Rota
The Swedish-based Weber Quartet deserves full marks for enterprise with this programme of music by composers best-known for their film scores. Only the Korngold piece has tangible links with Hollywood, in that his style remained consistent across stage, screen and concert hall. It's a delightful work, but strangely untroubled by its times – a less naive composer would probably not have ended a quartet written in 1934 with a decadent waltz. Miklós Rózsa, by contrast, kept his genres distinct and his quartet, written as late as 1981, is pure Magyar and sounds like something Bartók might have written in the 30s. Nino Rota – more a composer for the Italian film industry than for Hollywood, to be pedantic – composed his playful Inventioni in 1932, before his own film career took off.
The Weber Quartet is recorded quite intimately in a resonant acoustic, which, coupled with first violin Ronnie Weber's rather caustic tone, gives the Korngold an unfortunately hard edge. There are also occasional lapses in intonation and ensemble, though it's obvious the players have their heart in this passionate music. Recording and attack are more attuned to the rhythmically lively world of the Rózsa, where the ensemble is at its tightest – sample the punch and metric interplay of the Scherzo all'ungherese – and a certain degree of tonal harshness seems apt. The Rota, a world premiere recording, makes a resourcefully executed envoi. At only 54 minutes, the disc is rather short measure, so it's a pity the theme wasn't followed further with the addition of something extra like Bernard Herrmann's Echoes.


Matthew Rye