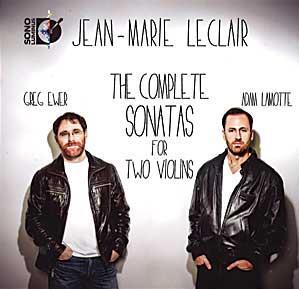 The Strad Issue: January 2014
Description: An important release of the French composer's neglected violin duos
Musicians: Greg Ewer, Adam LaMotte (violin)
Composer: Leclair
Greg Ewer and Adam LaMotte are seasoned collaborators who gel cohesively and complement each other well in this landmark recording of Leclair's twelve violin duo sonatas. They use period instruments – a 1738 Guadagnini and a 1730 Calcagni – but the extent of historical awareness with which they infuse their interpretations is sometimes questionable, particularly in matters of bowing. Nevertheless, they play with zest and athleticism, as well as tonal and technical command, and their performances are musically engaging and artistically satisfying.
Comparison of Leclair's op.3 and op.12 throws up intriguing pointers regarding his compositional evolution. In addition to the spirit of dance, almost omnipresent in this dancing master's vocabulary, the infiltration of virtuoso elements and Italian styles into these works' French cores becomes increasingly more striking in their three- or four-movement structures, arranged in various combinations of slow and fast. Such developments are tailor-made for Ewer and Lamotte: they revel in the joie de vivre of most of the agile, energetic finales; the various pastoral musette-like movements; the graceful sarabandas, sicilianos and other such dances; the galloping, crisply articulated gigues; the cantabile Italian arias and the rather exotic improvisatory solos in the central Adagio of op.3 no.3. Tempos are well judged, graces are neatly executed, intonation is largely accurate (except in the first movement of op.12 no.2), and phrases are sensitively shaped with subtle inflections and contrasts of dynamic, articulation and texture, even if the full-textured first movement of op.3 no.6 is far from being sempre piano.
The high-definition studio recording is exemplary – natural, detailed, spacious and well balanced.



ROBIN STOWELL