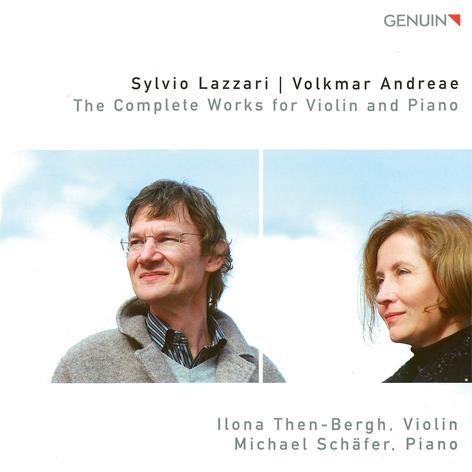 The Strad Issue: January 2010
Musicians: Ilona Then-Bergh (violin) Michael Schäfer (piano)
Composer: Lazzari, Andreae
It is always welcome to see artists, particularly of the quality of Ilona Then-Bergh and Michael Schäfer (both of whom are professors at the Munich Hochschule für Musik), championing works that have eluded the so-called 'canon' of great works. This nicely produced and well-recorded disc succeeds in rehabilitating Sylvio Lazzari (1857–1944), a Franck pupil, and Volkmar Andreae (1879–1962), a Swiss composer educated at Cologne.
None of these works lacks merit. The Lazzari Sonata is rather too long and disparate in places, but the muscular first two movements, with a heavy debt to Franck and Wagner are powerful, drawn with commitment and tonal intensity by Then-Bergh and Schäfer, even if the finale is thematically a bit dull. The much later Scherzo of 1931 is full of fun and some interesting harmonic underpinnings and would make an excellent encore piece.
Andreae's Sonata (which begins in confident and densely worked mode, with, this time, a number of Sibelius evocations) is equally worthy. Music does not necessarily have to blaze trails of unimpeachable originality to be valid, and the booklet notes, referring to 'witnesses to an age' encapsulate them fittingly. This is an attractive and inspired disc, well played and recorded.



David Milsom