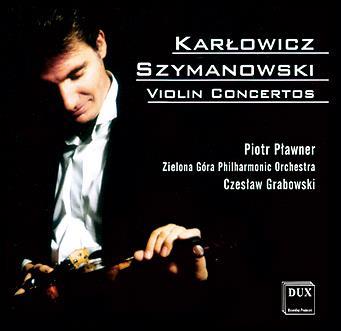 The Strad Issue: January 2007
Musicians: Piotr Plawner (violin) Zielona Góra Philharmonic Orchestra, Czeslaw Grabowski (conductor)
Composer: Karlowicz, Szymanowski
While many musicians were making the pilgrimage to Paris in the early 1900s, Szymanowski studied the folk music of his native Polish Tatra mountains, enthusing that 'each man must go to the earth from which he derives'. As time went by, so his style gradually became more complex, absorbing influences as varied as Scriabin's mysticism and Ravel's neo-Classicism. Nicola Benedetti made a stunning debut recording for DG of the First Concerto, brimming with confidence, bravado and youthful flair. Yet 31-year-old Piotr Plawner, who already has an award-winning disc of Szymanowski chamber music under his belt, is just that extra bit special in this hothouse mélange of The Poem of Ecstasy, The Firebird and The Invisible City of Kitezh. His sinewy sound and ear-tingling purity above the stave, achieved by meticulous control of vibrato and bow pressure, take one truly into the realms of the fantastic and exotic. Like some latterday Scheherazade, Plawner sounds less like a virtuoso violinist than a spinner of glistening sonic webs from which there is no escape. The Zielona Góra players sound equally entranced by Szymanowski's deliriously decadent sound world.
Those collectors familiar with Gianandrea Noseda's ongoing Karlowicz series for Chandos will already be aware of this short-lived composer's penchant for luxurious, bittersweet orchestral canvasses, in which Scriabin meets Respighi in roughly equal proportions. The Violin Concerto is a more traditional-sounding work, a modern twist on the much under-rated Wieniawski and strangely reminiscent of the concerto by the Russian Georgy Konyus which was composed around the same time. Plawner almost makes it sound like a lost masterpiece and the recording lacks nothing in physical impact.
JULIAN HAYLOCK