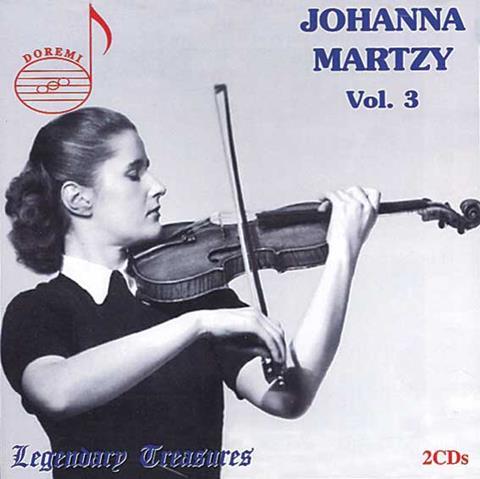 The Strad Issue: February 2015
Description: Welcome exposure for the artistry of a neglected Hungarian virtuoso
Musicians: Johanna Martzy (violin) Adolph Hallis, István Hajdu (piano) Stuttgart Radio Orchestra/Hans Müller-Kray, Netherlands Radio Orchestra/Willem van Otterloo, New York Philharmonic/André Cluytens, Cleveland Orchestra/George Szell
Composer: Vivaldi, Szymanowski, Martinu¯, Ravel, Bartók, Brahms, Falla, Mozart, Bach & Suk
The life of Johanna Martzy (1924–79) ended in illness and disappointment, but she has posthumous fame, thanks to collectors of her recordings. This set adds works by Bach, Bartók, Brahms, Martinu¯, Vivaldi and Suk to her slim discography. Violin tone varies but everything is listenable.
Vivaldi's D major Sonata RV10 sets the standard with firm tone, purposeful playing and solid rhythm. Szymanowski's Nocturne and Tarantella, a Martzy speciality, has admirable tonal control, variation and virtuosity. Martinu¯'s First Arabesque is infectious with resolute rhythm, Ravel's Habanera has lovely tone, Bartók's Romanian Dances are exciting, with natural rhythm and idiomatic tempo changes, and the Falla–Kreisler Spanish Dance is a delight. The sole let-down of this 1959 South African radio recital with Adolph Hallis is that Brahms's D minor Sonata lacks its Allegro: the rest has power, intensity, rhythmic subtlety, even charm.
Of two 1961 accounts of Mozart's G major Concerto K216, I prefer that with Willem van Otterloo – a little brisker. Martzy's playing has a refreshing springy quality, with fine tonal shading, and becomes positively bouncy in the finale. Bach's E major is stodgily conducted by André Cluytens and in Bartók's First Rhapsody, despite George Szell's Hungarian credentials, Martzy's accents are crisper than the orchestra's. In a 1969 German Radio rendering of Suk's Four Pieces with fellow Hungarian István Hajdu, the 'Quasi ballata' is pensive and passionate by turns, the 'Appassionato' has good rhythm with a lyrical central section, the 'Un poco triste' is deeply felt with capricious contrasting passages and the 'Burleska' is rhythmically alert.
TULLY POTTER