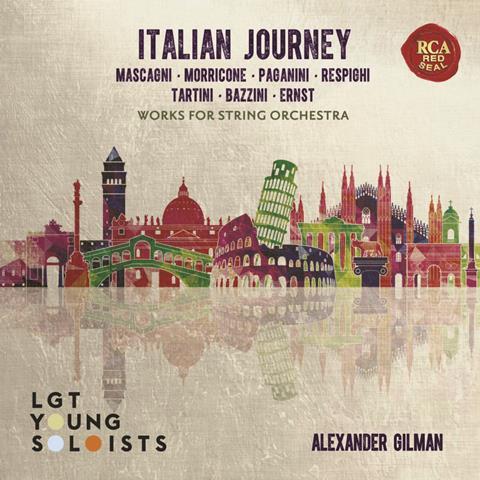 The Strad Issue: February 2016
Description: Works old and new that display this young group's talents
Musicians: LGT Young Soloists/Alexander Gilman
Composer: Bazzini, Ernst, Mascagni, Morricone, Paganini, Respighi, Tartini
This youthful ensemble's debut disc is well attuned to the 'easy listening' classical market. It offers a strange yet richly varied selection of music, connected by an Italian theme, and showcases the virtuosity of some of the group's talented members.
Violinist David Nebel steals the show in a breathtaking rendition of Ernst's Othello Fantasy, but Elvin Hoxha Ganiev also gives his fingers and bow arm a workout in Bazzini's effervescent La ronde des lutins, and cellist Lia Vielhaber performs an arrangement of Paganini's Mosè-Fantasia with a mix of honey-toned elegance and frenetic bravura.
Riccardo Zandonai's arrangement of Tartini's 'Devil's Trill' Sonata features Sumina Studer's violin over a lush string and annoying tinkling piano accompaniment. Regrettably, Studer's realisation of many of the trills is obscured; but she is mercifully left to her own talented if not wholly accurate devices in the cadenza.
Some string-orchestral pieces intersperse the various solo items, including Mascagni's Intermezzo (Cavalleria rusticana) and a well-characterised account of Respighi's neo-classical Antiche danze suite no.3. Finally, the ensemble's co-founder and pianist Marina Seltenreich joins the strings in the moving Love Theme from Morricone's Nuovo Cinema Paradiso. This small group's performances are buoyed up by a rich, reverberant recording, though balance is not consistently ideal.
Robin Stowell