The Wihan Quartet's fist violinist Leos ?epický describes the process of replacing the ensemble's longtime viola player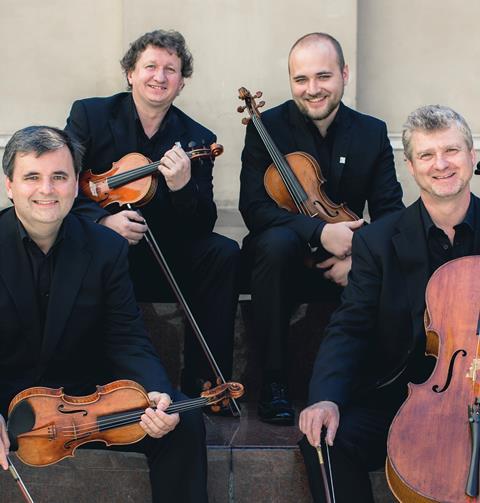 This past June my son, Jakub, became the Wihan Quartet's first new player since our formation thirty years ago. Below is an outline of the process of finding a new ensemble member.
A string quartet is like a marriage. You spend more time with the quartet then with your family. Therefore it's important to find a replacement who is not just a brilliant musician but is also a friend. Especially when a quartet is beginning to establish itself, it's crucial that the ensemble practise constantly together and build a strong rapport with one another, so it is no use playing with people you don't get on with! When it comes to touring, it's much easier to travel across the world with your friends, rather than organise flights and transport individually – this also cuts costs significantly. When a member has to leave, it is vital that the same level of trust and communication can be found in the musician who replaces him or her. This is why we think it's best to approach someone who knows the ensemble on a personal level, as well as being an exceptional performer; it is not only about the music.
Although open auditions can attract a number of wonderful artists and professional musicians, for a small ensemble, where the personality of the person is of equal importance to their level of skill, such as a quartet, it is better to approach a few people personally. When we began out search for a new musician, we talked to several violists we knew in the local conservatoires and colleges, as well as orchestras and ensembles. However, they had all been in other groups for a long time and were not looking to move to another ensemble. Approaching artists who have previously performed with the quartet is also a great idea, as you will already know their style and performance personality. It is also good for them, as they will be comfortable with some of the repertoire and will know how to integrate into the quartet. It can also be worth exploring musicians who can play alternative instruments, perhaps searching for a violinist who would like to play viola, as this widens the search pool. Another criterion is that we wanted a younger player, who would bring a fresh approach to the group and would provide us with a different and new sound.
When a suitable musician is chosen by the existing members of the ensemble, a trial period is usually expected so that the new member can rehearse and perform with the group before anything is confirmed. This ensures that they have the perfect sound, personality and stage presence for the ensemble and harmony with the other members. If the trial period is successful, then the ensemble can officially announce their new member. This is followed by a lot of hard work, with the most recent member having to learn a huge amount of repertoire. In the Wihan Quartet, the change came at quite a convenient time; with summer fast approaching, Jakub was able to learn all of the new repertoire in the few weeks when no concerts were scheduled.
There are not many quartets who have such a big age gap between their players – there's nearly 24 years between Jakub and the rest of us – plus, we are one of the only quartets since Leopold and Wolfgang Amadeus Mozart in which a father and son have performed together. Though within the ensemble I must always consider him as my colleague and friend, not my son.

The Prague-based Wihan Quartet will make a rare UK appearance at the Hampstead Arts Festival on 6 November 2014 at St John's, Downshire Hill, where they will perform works by Josef Suk, Mozart and Dvo?ák.
Photo: Leoš ?epický (violin) Jan Schulmeister (violin) Jakub ?epický (viola) Aleš Kasp?ík (cello)
Subscribe to The Strad or download our digital edition as part of a 30-day free trial. To purchase single issues click here.