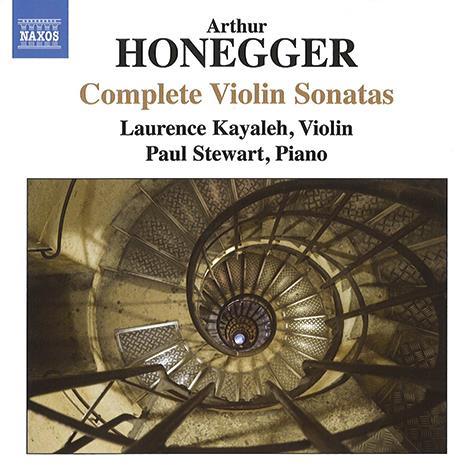 The Strad Issue: January 2011
Description: A unique collection of Honegger's chamber music for violin
Musicians: Laurence Kayaleh (violin) Paul Stewart (piano)
Composer: Honegger
Laurence Kayaleh and Paul Stewart follow up their fine two-disc Medtner survey for Naxos with the only single disc of Honegger's four violin sonatas currently available. It makes for fascinating listening as the three accompanied sonatas date from between 1912 and 1919, a time when Honegger was still finding his creative feet working with sonata procedures, whereas the Solo Sonata of 1940 revisits the Bach tradition from the perspective of an out-and-out neo-Classicist.
Kayaleh's warm, gentle sound is especially well suited to the espressivo richness of the early D minor Sonata ('no.0'), an astonishingly assured work dating from Honegger's first year at the Paris Conservatoire. Kayaleh traces the music's radiant contours with a heightened sensitivity to phrasing and an occasional portamento inflection, whose precision timing brings to mind the young Heifetz. The two numbered sonatas are exploratory works that require enormous skill and patience, and here Kayaleh and Stewart achieve a near?perfect balance between youthful exuberance and a beguiling sense of inner calm, complemented by exceptionally well-balanced sound.
In the tricky four-movement Solo Sonata, Kayaleh produces a seductively cushioned sound on her glorious 1742 Guarneri, although here I wondered whether she might have ?thrown herself into the fray with an even greater sense ?of abandon.



JULIAN HAYLOCK