The number of instrument cases available can make finding your perfect partner a daunting process. Charlotte Smith takes five cases by leading manufacturers BAM, For-Tune, Gewa, Musafia and Negri on the road to test security, mobility and the range of features available
As a gigging musician, I often travel with my violin – in cars, on buses and trains, and on planes. Yet my current instrument case is cheap and flimsy, offering a very basic level of protection from knocks and scrapes, and positively nothing in the way of security features. The most that can be said for the case is that it is light and compact. Considering the volume and variety of violin cases on the market, such inattention to instrument safety is inexcusable. Thus I decided to embark upon a case testing odyssey. I would take a different model to each of my string quartet wedding gigs over a three-week period to investigate, first and foremost, security, but also hardiness, portability, compactness and additional features, in the hope that I might find a new touring companion to keep my instrument safe as I travelled the length and breadth of the UK throughout the summer season. First up, on a trip to the New Forest, Hampshire, was a sturdy and luxurious case by Cremonese manufacturer Musafia. Hailing from the company's Master Series Exclusive range, the case featured its own certificate of authenticity, with a lifetime limited warranty. The interior of this object of stately beauty was lined in blue-silk velvet and 'suede-like Royale', while the exterior was clad in Cordura – a water- and tear-resistant substance treated with Teflon to reduce scuffing. The shell was constructed from 'continuum high-tensile' wood laminate, and the entire case had undergone six crash tests and two compression tests to ensure its 'load-bearing' internal partitions and 'monolithic impact absorbing structure' were of the highest quality.
Musafia Master Series Exclusivewww.musafia.com
Weight 2.3kg
Dimensions 80 x 23.5 x 14cm
Price €1,299
What's more, the manufacturers had gone above and beyond to offer further 'active protective features', including a FindMe GPS tracking transponder, which revealed the position, movement and speed of the case via Google Maps on a mobile phone; and wireless Bluetooth temperature and humidity monitoring, which cleverly allowed the case's owner to check the microclimate within, via a small D'Addario Humiditrak sensor.
The accompanying literature proudly revealed that Musafia Master Series cases, handmade in batches of just 100 each year, have been used to transport and protect Stradivaris, Guarneris and Amatis – an assertion I can well believe. Never before had my rather humble 1770 Chappuy violin been so luxuriously housed, or had I felt it was so well protected. Definitely a case for owners of higher-end instruments, this was an item which prioritised protection above all else – with portability and compactness taking a back seat. It was, nevertheless, not the heaviest case I have tested, and for its sheer number of features felt well worth its €1,299 price tag – even if its value meant the idea of it being stolen was almost as alarming as the idea of my violin being swiped!For my next gig, in Andover, Hampshire, I road-tested a bright orange thermoplastic Air 1.7 case by German manufacturer Gewa. An utterly different beast from the Musafia example, this case was small and sleek, favouring efficiency to such an extreme that I was hard pressed to find room for my rosin, cleaning cloth and a few spare strings. The black interior featured very little padding, instead relying on the product's suspension system and steadying straps to protect the instrument from knocks. The hard shell felt robust, however, and at no point did I fear for my violin's safety. While the Musafia case featured zips, a briefcase-style lock and studs to prevent the lid from falling open, the Gewa item once again plumped for simplicity, with just two combination-programmable flip locks. Made from a reinforced plastic and metal, these felt a little flimsy – the right-hand one seemed to be slightly temperamental. Nevertheless, the ease with which I was able to transport this case was certainly a bonus – both on the train with its backpack straps, and in a car overloaded with music, stands and fellow gigging musicians. A must for string players on the go, with a young and modern aesthetic.
My partner for a gig in Inner Temple, central London, was the CC case by Beijing-based company For-Tune. Designed in Switzerland by Curdin Coray, and again entirely handmade, this rectangular case was wider than the Musafia example, but fairly narrow in depth – and a weighty proposition. The interior of dark-red cotton-velvet felt well padded and the exterior of waterproof black microfibre synthetic leather really did protect against all weathers – including the heavy rain in which I walked between station and venue. An interior digital thermometer and hygrometer provided further proof of the inability of the elements to affect the instrument once enclosed. The case was very robust, but did include a leather strap for backpack-style carriage. The distinctive leather-look exterior might not be to everyone's taste, but this case offered great protection without too many distracting bells and whistles.
For-Tune CC case www.fortunestrings.com/cases
Weight 2.92kg
Dimensions 81 x 28 x 13cm
Price €888

The next day I took with me a L'Opera case by French manufacturer BAM to a gig on the Isle of Sheppey in Kent. Well known for its funky, eye-catching designs, BAM did not disappoint with its latest model – a black, shaped case of 100 per cent polycarbonate with a square silver handle and locks, and a crisp angular cut that promised to make the user 'shine bright like a diamond'. At just 1.7kg, this was easily portable both in the car boot and when carried by hand. Like the Gewa model, there was little in the way of padding in the black-felt interior, but the case's suspension system on 'injected foam cushions' promised to protect from minor knocks. There was, again, a handy strap for backpack-style carriage, a small inner pouch to store rosin and a cleaning cloth, and just two plastic 'new generation BAM locks', which like the Gewa locks felt a little flimsy. Still, for a younger (and more trendy!) musician than me, I could definitely see the appeal.
BAM L'Opera case www.bamcases.com
Weight 1.7kg
Dimensions 78 x 25 x 16cm
Price €612
Finally, I returned to tradition with a black Negri Venezia Advance model, which I took to a gig in Stowe, Buckinghamshire. This case felt strong and secure, while not the heaviest of the rectangular designs tested. It was made of laminated wood and covered in water-resistant Cordura canvas, with the interior lined in navy microfibre suede which, in combination with the case's ties and suspension system, felt soft and protective for my instrument. The Negri case featured a good amount of storage for basic accessories, and for music in the exterior pocket. Its chrome-plated German 'Sudhaus' latch was satisfyingly secure and easy to manipulate, while zips and magnetic buttons provided additional, yet unfussy locking protection. In line with some other cases tested, an interior hygrometer and backpack-style straps were included. The Negri case also promised the option of additional security features (for an extra cost), including GPS tracking technology, an alarm system, a mobile phone alert system and a temperature isolation system for those braving extreme climates with their instrument in tow. A stylish, unobtrusive case for the everyday, this model provided everything I could ask for – and at just £695, seemed very reasonably priced, too. In the end, all the cases I tested had much to recommend them – and each one might well serve as the perfect partner for the demands of varying violinists. Ultimately, it comes down to deciding whether lightweight portability or impenetrable protection is the ultimate goal – but whatever your priority, you can be sure that thanks to the ingenuity of the manufacturers there is a case out there that will meet your needs.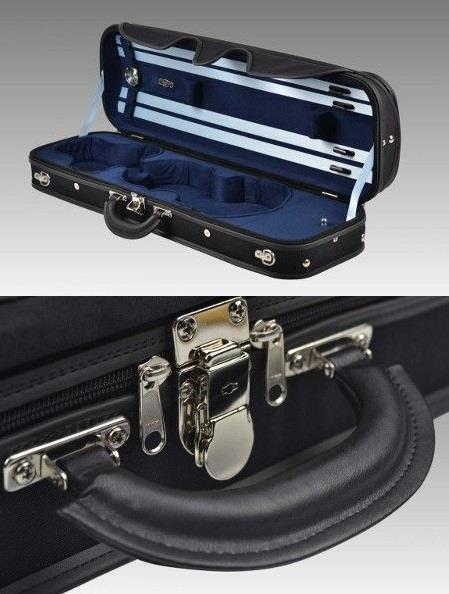 Negri Venezia Advance case http://negricases.com
Weight 2.75kg
Dimensions 78 x 25 x 11cm
Price £695