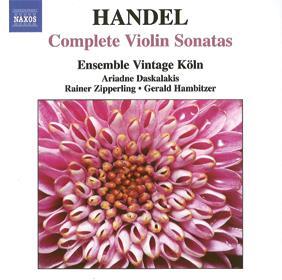 THE STRAD RECOMMENDS
The Strad Issue: January 2013
Description: Stylish accounts of Handel from a German-based ensemble
Musicians: Ensemble Vintage Köln: Ariadne Daskalakis (violin) Rainer Zipperling (viola da gamba/cello) Gerald Hambitzer (harpsichord)
Composer: Handel
These performers give pride of place to the five echt violin sonatas, but acknowledge the merits of the four doubtful ones and two short movements for the instrument. Their readings demonstrate remarkable flair and individuality, as well as an instinctive sense of style.
Ariadne Daskalakis makes her violin sing eloquently in the slow movements, notably in the first and third movements of HW371 in D major and HWV361 in A major, and in the Adagio of HWV373 in E major, and she adopts some interesting, if sometimes questionable, embellishment practices. Her athletic fingers zip through Handel's lively fast movements, particularly the fugato Allegros of HWV371, HWV361 and HWV368 in G minor, played with striking panache, and the crisply articulated finales of HWV371 and HWV372 in A major. She captures a pleasing sense of the dance in the finales of HWV364a in G minor and HWV358 in G major, embellishing the latter rather cheekily and playing the four incredulously high notes given in the manuscript near the end. She uses rubato winningly, but oversteps the mark in the Adagio of HWV370 in F major.
Cello and viola da gamba are employed flexibly and the varied repeats in the Largo of HWV370 and Adagio of HWV368 are very effective. The recording has exemplary clarity, yet warmth too.
ROBIN STOWELL