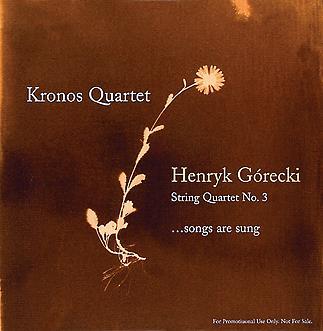 The Strad Issue: January 2007
Musicians: Kronos Quartet
Composer: Górecki
Where do you go after writing a best-selling Symphony of Sorrowful Songs? Write a quartet of sorrowful songs, it appears. The subtitle is from a poem by the Russian Velimir Khlebnikov: 'When people die/songs are sung'. These songs are simple – sad or consoling depending on your mood or inclination – and extended (stretched, I would rather say) to five movements, almost uniformly slow, which make up a long 50 minutes. Górecki has successfully kicked over the traces of his Modernist past (the symphony was written as far back as 1976, the quartet dates from 12 years ago, but has only now been released for publication); all is quiet melancholy and beatific consonance.
Fans of the composer and followers of the Kronos already know they want to hear this, and the quartet's trademark bare sonority is apt and well-balanced, but the questions for the uninitiated and the sceptical grow louder. What is the point of this music? Is creative sincerity sufficient unto itself? It doesn't depart, travel or arrive. The tonal plan is rudimentary, its distension by repetition dreary and self-defeating. The only challenge is to one's patience. By comparison, the five hours of Feldman's String Quartet II pass like a thief in the night.
In the interests of balance, I grudgingly quote the Kronos's leader, David Harrington: 'One of the most lyrical, poignant and far-reaching works ever written for string quartet… this music consoles as it faces, unflinchingly, the deepest aspects of life.' Over to you.
Peter Quantrill